Andalucía - Self-Catering / Vacation Rental Apartments and Townhouses
Holiday Rentals in Southern Spain
Andalucía - land of contrasts... from the great Moorish monuments, including Granada's Alhambra Palace and Córdoba's Mezquita, a grand and beautiful mosque constructed by the Moors, to its unspoilt inland towns and white villages... Mountain top cities including Ronda and major tourist destinations including the Costa del Sol, make this a fascinating region with something for everyone. Choose your options from the menus below...
View map - Read travel articles about Andalucía
| | |
| --- | --- |
| GRANADA HOLIDAY RENTAL APARTMENTS | |
| | |
| --- | --- |
| - ALBAYCÍN SELF-CATERING APARTMENTS, GRANADA | |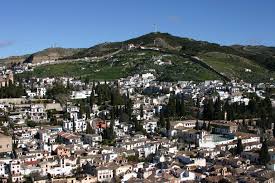 If you see only one town in Spain it should be GRANADA. For here, extraordinarily well preserved and in a tremendous natural setting, stands the Alhambra - the most exciting, sensual and romantic of all European monuments. It was the palace-fortress of the Nasrid sultans, rulers of the last Spanish Moorish kingdom, and in its construction Moorish art reached a spectacular and serene climax. But the building seems to go further than this, revealing something of the whole brilliance and spirit of Moorish life and culture. There's a haunting passage in Jan Morris's book, Spain , which the palace embodies: "Life itself, which was seen elsewhere in Europe as a kind of probationary preparation for death, was interpreted [by the Moors] as something glorious in itself, to be ennobled by learning and enlivened by every kind of pleasure."....

Andalucia's Crowning Glory - The Alhambra of Granada by Heather McMillan
There are few visitors to Andalucia who do not have the Alhambra of Granada at the top of their agenda. This marvellous palace complex, home of the last ruling Muslim dynasty in Spain, is renowned throughout the world for the stunning beauty of its architecture and decoration. The Alhambra received around two and a half million visitors last year, and it is advisable to reserve tickets in advance ... read more
Al Andalus Apartments, Holiday rental apartments, Albaycín, Granada
This Charming accommodation group is made of a variety of recently restored buildings. They are situated in traditional areas of the Albaycín facing the famous Arabic Palace "La Alhambra". The Albaycín, Granada's old Muslim quarter, is the historical centre of the city. It is well known for its tranquillity, its uniqueness and its pedestrianised alleys. Nevertheless, all our apartments can be easy accessed by vehicle and public transportation.
Smart Suites Albaicin, Holiday rental apartments, Albaycín, Granada
Smart Suites Albaicin offers modern accommodation in Albaicin, just 5 minutes' walk from Plaza Nueva and Gran Via. The property provides free WiFi, an exterior courtyard and private parking at an extra cost. Each air-conditioned apartment features a bright interior and modern décor, and some have a terrace. Complete with a dishwasher, all kitchens are fully equipped with modern appliances. Bedrooms at Smart Suites Albaicin come with a large double bed, and each private bathroom has a bath or shower, hairdryer and free toiletries. Granada Cathedral and San Nicolas viewpoint are a 5-minute walk. A variety of shops and restaurants are also located within 5 minutes´ walk. Alhambra Palace is 15 minutes on foot and Granada Airport is 18 km away. Albayzin is a great choice for travellers interested in architecture, history and ambiance.
Continue browsing accommodation in Granada
| | |
| --- | --- |
| - ALMUÑÉCAR SELF-CATERING HOLIDAY RENTAL APARTMENTS | |
An all year round location, ideal for sea, sierra, ski and city. The fascinating Granada, the last Moorish stronghold, with the fabulous Alhambra and Sierra Nevada skiing, is just an hour away.

Apartamentos El Tranco del Mar, Holiday rental apartments, Almunecar
This property is 2 minutes walk from the beach. The Tranco del Mar's air-conditioned apartments all have a private balcony, modern kitchen, free Wi-Fi and a washing machine. They are just 150 m from Almuñécar's Puerta del Mar Beach. Each Tranco del Mar apartment has a seating area featuring a plasma TV with international channels, and the kitchen includes a washing machine. The Tranco del Mar apartments are in the historic centre of Almuñécar, which is full of tapas bars with terraces. They are a short walk from the Incarnation Church and San Miguel Castle. With good access to the N-340 Motorway, the apartments are around an hour's drive from the Peña Escrita Nature Reserve. The beautiful city of Granada is about 50 km away.
Hotel Suites Albayzin del Mar, Apartment Hotel Almunecar
The Suites Albayzin del Mar Hotel is located on the Costa Tropical in Eastern Andalusia in the south of Spain. Suites are elegantly furnished with white marble floors and Arabic plasterwork walls and include two or three bedrooms, one or two bathrooms, spacious lounge, fully equipped kitchen and terrace. The hotel boasts many facilities including 2 restaurants, swimming pools, gym, 4 conference rooms and Internet access.
Continue browsing accommodation in Almuñecar
| | |
| --- | --- |
| - GUADIX SELF-CATERING, HOLIDAY RENTAL APARTMENTS/CAVES | |
Guadix is located 60 km from Granada, 200 km from Murcia and 110 km from Almería. In Guadix you can visit the Cathedral, the Alcazaba, the Museum cave and the Pottery Museum. Horse riding, walks around the area, quads, mountain bike, canoeing, etc. In La Calahorra (20 km away from Guadix) you can visit the Renaissance Castle. Located only 60 km. from Granada city.

Cuevas Pedro Antonio de Alarcon, holiday rental cave apartments, Guadix
An exclusive tourist complex of caves in Guadix (Granada). These caves give the opportunity to stay in a historic place with all facilities and keeping its original charm. These caves give the opportunity to stay in a historic place with all facilities and keeping its original charm. Each cave has living room, with TV and telephone, a full equipped kitchen (including microwave/grill combinations), bathroom with hairdryer and bedroom/s. The caves also have central heating and hot water. There is an area at the entrance to park your car and a barbecue. Most of them have a fireplace.
Cueva La Ermita, self-catering cave apartment, Guadix
Featuring a terrace with views of the mountains and barbecue facilities, Cueva La Ermita is located in Guadix. This 3-bedroom country house offers a fireplace and air conditioning. This property has 2 double bedrooms and 1 twin bedroom, as well as 1 bathroom with a shower and free toiletries. Bed linen and towels are provided. The kitchen comes equipped with an oven, microwave, dishwasher, coffee machine, and kitchenware, while the living area includes a sofa, flat-screen TV, and a dining table. You will find a range of shops and restaurants within a 3-minute drive of Cueva La Ermita. Guadix Cathedral is 1 km from the property, and Sierra Nevada National Park is 10.5 km away. Granada is 45 minutes' drive from the house.
More accommodation in Guadix
| | |
| --- | --- |
| - SEVILLE SELF-CATERING APARTMENTS | |
Seville - monumental city that just has to be visited. Sevilla lies on the banks of the Guadalquivir and is one of the largest historical centres in Europe, it has the minaret of La Giralda, the cathedral (one of the largest in Christendom), and the Alcázar Palace. Part of its treasure include Casa de Pilatos, the Town Hall, Archive of the Indies (where the historical records of the American continent are kept), the Fine Arts Museum (the second largest picture gallery in Spain), plus convents, parish churches and palaces.
Seville - Andalucia's Capital City by Heather McMillan
Think Andalucia, think Seville! To many people, Seville encompasses all those things that make Andalucia special. The exuberant, colourful dresses worn at the April Fair, the whitewashed, characterful streets of the Barrio Santa Cruz, the heady scent of orange blossom and the emotional sounds of flamenco; all these tipify Seville and are also the very essence of Andalucia... read more and view photos
Friendly Rentals Tempa Museo, Holiday Rental Apartments, Sevilla
Centrally located, next to Seville's Plaza del Museo, Apartamentos Tempa Museo offers a small outdoor pool, a hot tub and free Wi-Fi zone. The modern, air-conditioned apartments have a washing machine, dishwasher and dryer. Each apartment features a living room with a sofa and flat-screen TV. The private bathroom comes with a hairdryer. There is a kitchen with a fridge, microwave and coffee maker. Some have a private sun terrace. You will find shops, bars and restaurants within a short walk. Luggage storage is offered and there is a tour desk and concierge service. There is a large private parking onsite which can be used for an extra cost. Seville Cathedral and Giralda Tower are 10 minutes' walk away.
Sevilla Central Suites Apartamentos Puerta Jerez, Sevilla
Sevilla Central Suites Apartamentos Puerta Jerez offers a shared roof-top terrace, air-conditioning and free WiFi in Sevilla. Seville's Alcazar and Cathedral are 4 minutes' walk away. Apartments at this property come with 1 or 2 bedrooms and a bathroom with a hairdryer. Their living rooms are equipped with a flat-screen satellite TV and a sofa bed. Their kitchenettes come with an electric kettle, microwave, coffee machine and toaster. Some apartments include a private terrace with city views. The property is 200 m from Barrio Santa Cruz and Plaza de España Sevilla is a 15-minute walk from Sevilla Central Suites Apartamentos Puerta Jerez and La Cartuja is 3.5 km away. Old town is a great choice for travellers interested in architecture, tapas and ambiance.
More accommodation in Seville