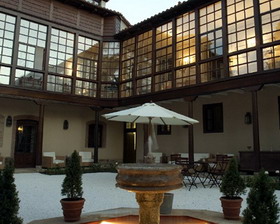 This hotel comprises a late 18th century building that formerly housed the Santiago Pilgrims Hospital, preserving the façade of the chapel bearing the same name, and an adjoining building created by the architect Cardenas in 1906.

It is located in the city centre, just a few metres from the Cathedral, the Gaudí Palace and the Roman walls and has a large 19th century style garden.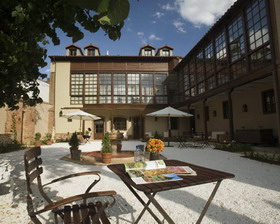 Activities
Cultural tourism, visit to Las Médulas: A Natural Heritage Site 60 km from the hotel. León is 46km away and Ponferrada 50 km. Visit the villages of the Maragatería region just 10 km from the hotel. Visit the Valporquero Caves, 120 km, the Complugo Forge, 30 km. Gourmet tourism: Try the "Maragato Cocido" (Maragato stew) or "botillo" dishes (stuffed sheep's stomach). Leisure tourism: Golf, trekking, hunting, fishing, cycling, tennis. Tennis/Padel, Bicicletas, Caza, Senderismo, Caballos, Pesca, Golf.