Activities: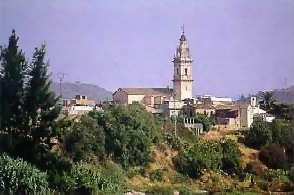 Estivella is a small village which boasts several traditional bakers, using wood-fired ovens to bake twice a day, shops to cover all your needs and a weekly market. This is not a tourist village, in the sense of tourists from overseas, although Estivella has long been a summer destination for people from the nearby city of Valencia, seeking to escape the summer heat of the coast. The village is set within acres of attractive 'huerta' where you can stroll or cycle along level paths amongst oranges, almonds, pomegranates and olives.
The village has a thriving local culture. People speak the dialect of 'Valencia', a cross between Spanish and French, and there are regular events in the village, from visiting bands and theatre in the 'Casa Cultural' of the village, to the August fiestas of the village. The August fiestas are an explosion of a fantastic range of activities and noise - from open air paella cooking competitions to bull running through the narrow village streets. Very exciting if you want to be part of it and don't mind noise until the early hours, but worth avoiding if you are seeking peace and quiet !
It is perfectly possible to manage without a car. There are regular, reliable and cheap bus services both inland and to Valencia as well as a train which takes you from Estivella station to the very heart of Valencia city.
Coast/Beach:
The nearest beaches are about 10 miles from the villa.
Travel:
Valencia airport 'Manises' is located about 15 miles from the villa.
Further details:
There are numerous fascinating places to explore on day trips. The famous medieval village of Albarracin, the beautiful natural hot river of the spa town of Montanejos, some of the most important Roman ruins in Europe at Sagunto and excellent easy rambling in the low hills and 'huertas' and more demanding walks in hillier country.