Villa Costa Blanca
Altea
Costa Blanca
Valencian Community
Spain

Contact:

Tanya

Rates:

This impressive Villa is set high up in an exclusive resort...

The Villa faces south and enjoys fabulous views of the Bay and the vast Mediterranean Sea.
Light and spacious in design. A relaxing and airy interior, having used natural materials, with a neutral colour scheme and high quality furnishings. The villa has glass windows that go from the ceiling to the floor, and doors which face directly to the sea and allowing sunlight to illuminate through into the villa. Three level villa, with all the rooms laid out in an unbroken line of descent providing excellent views. Luxurious bathrooms. The bedrooms are clean and light.

There is a wooden terrace surrounding the villa (coastal side) leading to and surrounding the large "horizon" pool, which appears to drop away into the sea. This decking, together with the railings and the spectacular sea views, lets you dream you are on a cruise ship.

There is a standalone cottage which also has a nautical theme with its sundeck shaded by a kite-like structure not unlike the sail of a yacht. The perfect villa for those who require tranquility and privacy. Located not far from the closest town. The property is easily reached from the highway only is 2km away.

ACCOMMODATION AND FACILITIES

Main House. Three floors. First Floor: Contains a two car garage and a room with laundry facilities. Ground Floor: The spacious livingroom and dining room combination, have a 3-seater sofa, two resting chairs, a coffee table, telescope, satellite, television and a CD player. The dining room has a dining table and 4 leather chairs. The kitchen has all the neccesary modern appliances including 2 fridges and a separate freezer. Panoramic views.

The sundeck is sheltered, there are patio chairs, an outside shower,and an al fresco dining area for up to eight persons. The king master bedroom has an en suite bathroom, with shower and hydro-massage oval bath, and private dressing room. Patio doors lead to its own deck with sea views. Another bathroom is located on this floor also.

Lower Ground Floor. Seaviews from the double bedroom, en suite bathroom with bath, hand-held shower . This bedroom has glass doors that lead out to a shared sundeck. Stairs lead to the swimming pool deck.

Also on this floor, study with a king sofa bed or this room can be made to twin bedroom if needed. This study has a private dressing room and bathroom. It shares the deck with the bedroom with stairs to the pool. There is a door between these two rooms. Sauna. N.B. The bedrooms have a safe.

Cottage - next to the main villa. The cottage has an open-plan in the cottage's sea view living/dining area, which opens onto the main sundeck, furnished with sitting furniture. The cottage has the same design scheme of the main villa. A separate fitted kitchen.The cottage contains two twin bedrooms (2 single beds). They share a bathroom with shower.

Amenities: Music System (CD Player), phone, Satellite TV, Fax, Heating, Air Conditioning Units (same unit does either), Internet Connection (no computer supplied), Security Alarm System, Safes, Dishwasher, Dryer, Microwave, Washing Machine. Private Pool, Barbecue, Sauna, and Patio Furniture.
Rates 2009
Available on enquiry
SERVICES AND UTILITIES INCLUDED IN PRICE
All utilities except the telephone. Daily maid service is included, up to two hours after.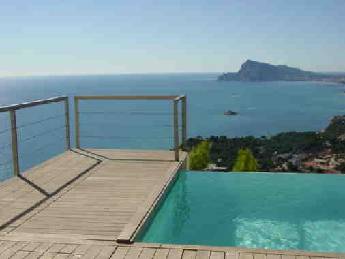 Your Name:

Your E-Mail:

Confirm Email Address:

Tel. No:

Address:

No in Party:

Arrival date:

Departure Date:

Second choice arrival date:

Second choice departure date:

Your budget should this option not be available:

Additional comments and requests:
Choose your favourite region below:
[ Andalucía ][ Aragón ][ Asturias][ Balearics ][ Canaries ][ Cantabria ][ Castilla La Mancha ]
[ Castilla y León ][ Cataluña ][ Extremadura ][ Galicia ][ La Rioja ][ Madrid ][ Murcia ][ Navarra ]
[ País Vasco ][ Valencian Community ]
Copyright © All Spain Accommodation
Latest update: February 4, 2009