Spain Holiday, Accommodation & Travel Guide

Spanish Vacation Lodging & Tourism Information

Planning a Spanish holiday? We offer everything you need for your vacation in Spain - all types of accommodation, private tours, photo galleries and a travel guide.

All Spain Accommodation is based in Fuengirola on the Costa del Sol. We endeavour to bring you the best accommodation options throughout Spain - including some of the most popular hotels - including rural, budget and medium range right up to luxurious hotels, plus bed & breakfasts, self-catering accomodation and rural tourism thoroughout the country. Read up on each area of Spain on our regional pages to find out about the cities and attractions close by.
Spain is literally a world within one country ...
The scenic offerings range from beautiful and lush "Green Spain" up in the north, through the more arid centre of the country, right down to the wonderful sun-baked coastal areas in the south of Spain. Sunbathe on endless beaches in Andalucía, Cataluña, Murcia and the Valencian Community or up north in Galicia, Asturias and Cantabria.
On the other end of the scale, while not ski in the Sierra Nevada near Granada, explore the winelands of Catalunya or famous La Rioja, see the Roman ruins in cities like Merida in central Spain.
Choose from exciting cities like Madrid and Barcelona, which are a combination of both modern and historic. Visit castles, monasteries or Moorish monuments countrywide. Maybe take an island holiday in the Balearic Islands or the Canary Islands.

It might sound like a cliche, but Spain is quite literally a world within one country with something for everyone....

Can you imagine sleeping in a castle, palace, convent or monastery in sheer luxury? You can by visiting the beautiful and historic Paradores of Spain.

View the location map to view the various regions of Spain covered by this site. Plus you will find a regional map on each regional links page.

In a hurry? To book an apartment or villa, search here. View our special feature options below and visit our featured properties. View our featured travel articles for more information about Spain.
Latest news from Spain: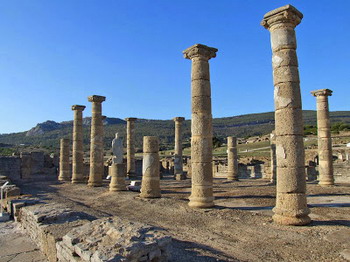 Baelo Claudia - 2nd century Roman town on the Costa de la Luz
On the outskirts of Tarifa, close to the village of Bolonia on the Costa de la Luz, lies a fascinating Roman city dating back to the 2nd century BC called Baelo Claudia.

The ancient Roman town is located 22 kilometers (14 miles) outside of the city of Tarifa, right on the dunes of the village of Bolonia. On the shores of the Straits of Gibraltar, the town was originally a fishing village and also a North African trade link, settled around 2,000 years ago.

At the time of Emperor Claudius the town was thought to be very prosperous, as it was a major port for Tangier in Mauretania Tingitana (now Morocco) and also supplied salted tuna fish, garum and other products to various other Roman cities close by. ... read more and view video
| | |
| --- | --- |
| Featured Destinations: | |
Featured Destination: Mojacar, Costa Almeria:
No other corner of Andalucía can boast such a rich and close heritage with their Moorish past as does Mojácar. With her exceptional situation as a lookout dominating the surrounding terrain, Mojácar has been settled by many and varied peoples since antiquity... read more

Featured Destination: The Canary Islands:

The wonderful Canaries!
Including Tenerife, the Island of Eternal Spring, and Gran Canaria - popular tourist destination with great sandy beaches! Playa del Ingles is the ideal location for tourists looking to relax on exotic shores this summer.

Featured Destination: The Balearic Islands:

The Balearic Islands are a wonderful holiday destination - with beautifully scenic views, rural tourism accommodation, sandy beaches, luxury beach resorts, bed & breakfasts and hotels... enjoy all the benefits of the wonderful scenery and accommodation.

Finding a suitable accommodation is a very important part of your vacation, so make sure to inform yourself properly before making a booking. To avoid paying too much for a hotel, check this site to compare your alternatives and prices.

Featured Destination: Madrid, Capital of Spain

Madrid is a modern, world-class, but also historic city - the capital of Spain - located almost centrally in the heart of the country.

A contrast of old and new, Madrid is a beautiful and vibrant city of great architectural interest.

You might find the drive into the city a bit boring with its suburbs of concrete apartment blocks, but once in the centre, you will enjoy the traditional streets, with medieval buildings and some narrow and very atmospheric alleys, containing shops and bars.
Featured Accommodation and Newest Additions: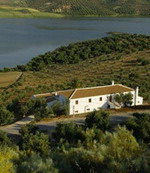 Casa Rural El Olivar, Rural Bed & Breakfast, Iznájar, Córdoba Province
A rural paradise amongst Andalusian olive groves, with a stunning view over the hills and the quiet blue of the dramatically shaped lake, Casa Rural El Olivar offers you a pleasant holiday destination to really rest and relax. Casa Rural El Olivar is a completely renovated farmhouse which has been converted into a comfortable and stylish Bed & Breakfast. The farm has been built in a hillside with several terraces on different levels. A Mediterranean garden surrounds the house with an infinity edge swimming pool located on the lowest terrace, giving the impression that the water is flowing into the lake.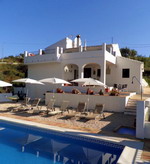 Casa Colina, Charming Rural Bed & Breakfast, Comares
A beautifully renovated farmhouse in the Andalucian hills, Casa Colina is more than just a B&B. Your hosts Paul & Niki offer a great place to stay, whether you are looking to explore the sites of Andalucia or just relax by the pool in beautiful surroundings. Enjoy lunches and dinners, prepared daily from locally-sourced produce, which includes fresh eggs from the 12 hens and home-reared chickens on the premises. All meats served at Casa Colina are free-range, and wherever possible, organic. Guests have a choice of 4 individually-styled suites, all with a drinks fridge and tea/coffee making facilities.
Hotel Yaramar, Beachfront Hotel, Los Boliches, Fuengirola

The 4 star Hotel Yaramar in Fuengirola overlooks trendy Los Boliches beach, with only the promenade and the sandy beach separating the attractive modern building from the Mediterranean sea. The four panoramic elevators will take you to the 242 guest rooms, bars, restaurants, and clubs. Just across the street, right on the beach, you will find The Rivera Beach Club, a traditional "chiringuito" (beach bar) where you can unwind after playing by the sea. It offers sunbeds and parasols and is known for its wonderful Spanish tapas.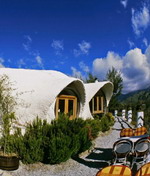 Hotel Los Caracoles, Unique Rural Hotel, Frigiliana
Natural scents and sounds caresses the skin, ecstatic views disappear in the horizon, a taste of life. An oasis for enjoying the Mediterranean. Situated in one of the most peaceful and picturesque corners of Axarquia (Costa del Sol) with panoramic views over Frigiliana and Nerja, to the sea and mountains. At 60 km. from Malaga, 10 km. from Nerja, 8 km. from Torrox and 4,5 km. from Frigiliana. Original restaurant in a snail-shaped dining room with a spacious outdoor terrace where you can taste and enjoy Andalusian/Mediterranian cuisine. Bar, pool, gardens and parking.

Casa Pedro Barrera, Boutique Hotel, La Almudema, Caravaca de la Cruz
This unique 300 year old "cortijo" (farmhouse), set in 20,000m2 of almond groves, was once owned by the famous bullfighter Pedro Barrera Elbal. Lovingly renovated, the property offers five luxury suites, lounge, dining room and library. Set in comfortable grounds away from the hustle and bustle of the city, the hotel has a swimming pool and outdoor kitchen. A restful place offering seclusion and tranquillity for all. This lovely boutique hotel is only 15 minutes from Caravaca de la Cruz, the 5th holiest city in the world.
Casa Rural "La Sirena", Rural Self-Catering House, Torrox
2km from Torrox and 7km from the coast and the Natural Park Sierra Tejeda y Almijara, you will find "CASA RURAL LA SIRENA" an airy detached house, where you can arrive easily from the village. The house is newly renovated and has a high standard. Lovely views to the mountains and the sea. 2 bedrooms, 2 bathrooms, swimming pool, 2 terraces and a big roof garden, barbeque and mountain and sea views.


Casa 10-11, Rural Self-Catering Villa, Pedania de Ubeda, Pinoso
Casa 10-11 is a delightful country house situated a rural village surrounded by vineyards and bodega, perfect for holidaymakers who wish to experience an authentic taste of the real Spain away from the hustle and bustle of the overcrowded coastline. Casa 10-11's warm and welcoming ambience provides a relaxing and safe place to holiday and caters for all types of holidaymakers, for those who wish to get away from it all and relax by the pool enjoying precious time with friends and family, and for the more energetic who wish to partake in their sport or hobby in some of the most beautiful countryside in Spain, ideal for painting, yoga, nature trails, mountain climbing, cycling, walking and golf or just exploring.
Cal Ruget Biohotel, Eco Country House, Vilobí del Penedès, Barcelona Province
Located in the heart of the Penedès, one of the major wine producing areas and cava in the world, Cal Biohotel Ruget is surrounded by a sea of endless vineyards, ensuring a constantly changing landscape. With an excellent location, offering magnificent views of the mountains of Montserrat to the north and the magnificent Castel Sant Martí Sarroca southwest, and the littoral plain and Penedes. The house, built in the early SXX, has the structure of a typical rural building in the area, a farmhouse, with many details typical of this type of architecture. The property, which occupies an area of 10,000 m2, has his own own vineyard, an organic garden and a large garden with pool and lots of corners designed to relax and enjoy unparalleled peace of mind.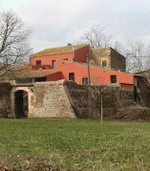 Mas Masaller Rural Bed & Breakfast, Cruilles, Baix Emporda
Mas Masaller is a 13th-century farmhouse reformed in 2010, located in Cruïlles, next to La Bisbal d'Empordà, at the foot of the Gavarres Hills (declared an Area of Natural Interest). The ground floor of Mas Masaller still displays all of its original layout of stables. The wine barrels are integrated into the dining-room located in the part renovated in 2010. Outside the house, in what was formerly the vegetable garden, there is now a garden of some 500 m², fully enclosed by a stone wall and containing the house's well and plant nursery. Mas Masaller has 6 bedrooms (doubles, triples and quadruples) with a total capacity for 15 guests. In keeping with the general style of Mas Masaller, the decoration of the bedrooms is sober and elegant, with a predominance of the old furniture of the house, suitably restored and updated.
Barcelona & Spain - Travel Guide:
Capital of Catalunya and a place of constant fascination, Barcelona is a mixture of modern, gothic and modernist, with wonderful architecture, museums, cathedrals and other places to visit. Fantastic dining, nightlife, art, culture and history. There is a great range of accommodation in Barcelona in all the most popular areas of the city, including Barceloneta Beach, Barrio Gotic, close to Las Ramblas, Eixample and more. Hotels, resorts and apartments from studios to those that can sleep ten guests together, can be booked online with instant email confirmation.

More travel reading on Barcelona: Things to see and do in fascinating Barcelona, Spain
Featured Spanish Travel Blogs:
Top Reasons To Visit Fuerteventura In 2014
The Canary Islands is one of the world's most intriguing archipelagos, with Fuerteventura being particularly popular when it comes to tourists...
Visiting Spain from Madrid
Madrid is an excellent choice for visitors to select as a base when touring Spain, because it's well connected to all other Spanish destinations by air, road, and train...
Travelling to Pollensa, Spain with kids
Pollensa, Spain is a beautiful destination for families. As a kid-friendly travel hot spot, this small town on the island of Mallorca rests at the foot of a majestic mountain...
Contrasts of Ibiza
Ibiza is synonymous with sun, sea, sangria and so much more, and whilst it is often the hedonistic reputation which makes the headlines, it is an Island with so much more to offer for all types of people.
Where to stay on your Spanish holiday
Feeling like you need a break from the everyday stress? Well, now is a great time to start planning a break-away to the sunshine. Why not think about the perfect holiday in sunny Spain?
Discover Tenerife
If you're seeking a fresh holiday experience filled with natural wonders and exciting activities, lay plans to visit Tenerife. As the most developed of the Canary Islands...
3 Great Spanish Holiday Resorts
Ah, the great resorts of Spain! So many exciting and economical places to go there on holiday. But with such a huge range of choices, it's hard to choose just which ones might be best for you..
Mallorca — Your Spanish holiday paradise
While all the islands are popular holiday destinations, possibly Mallorca is the most visited, particularly by tourists from Germany, Ireland, the UK and Scandinavian countries..
Quick Guide to Benidorm
Benidorm is one of Spain's most picturesque coastal towns. Stunning views of the Mediterranean Sea and a mountainous backdrop enhance the appeal of this popular travel destination..
5 Reasons to Teach English in Spain
Whether you are a history and culture enthusiast, a beach lover or food and drink connoisseur, this country's wonderful diversity fills and enlightens the senses..
Madrid Car Hire Services
Madrid is home to picturesque sights and sounds that are unique to this corner of the world. The Spanish royal family makes their home here..
The Rise and Rise of The Canary Islands
Over recent decades the tourism industry across the picturesque Canary Islands has exploded; the influx of visitors from across the whole of Europe and often further afield has been extraordinary..
Gran Hotel Guadalpin Banus
A touch of elegance, living the luxurious life and glamour around every corner are just a few words that can describe the Gran Hotel Guadalpin Banus...
Spanish Car Rental Services
Spain offers a variety of picturesque settings which come together to create the memories that holidays are made of. Around every corner is the chance for travelers to connect with the heart and soul of Spain
Barcelona Car Hire Services
There is so much to see and do in the beautiful city of Barcelona, Spain. Although there does exist an established train system that can provide views of Barcelona, this is not ideal..
Your next island holiday in sunny Mallorca, Balearic Islands
There is nothing quite like an island holiday - your own spot in the sunshine, surrounded by the sparkling sea, golden sands and glorious views..
Costa Dorada has it All
The name says it all; Costa Dorada, which means Golden Coast, and it won't take long to realise this is a more than appropriate title. This stretch of coastline, to the southwest of Barcelona...
River cruises in Europe - the holiday of a lifetime
Planning a holiday in Spain this year, and finding you have a lot of spare time on your hands for your trip? Why not slot in a wonderful river cruise, either at the beginning or end of your Spanish vacation?
How to Plan Your European Adventure
Everyone should go on a European adventure at least once in their lives. Whether you're from the Europe area or overseas, a little planning can go a long way ...

Spain Travel Guide

Top