3 Great Spanish Holiday Resorts
Return to Travel Articles

Ah, the great resorts of Spain! So many exciting and economical places to go there on holiday. But with such a huge range of choices, it's hard to choose just which ones might be best for you. The Spanish coastal resort areas of the Costa Blanca, the Costa del Sol, and the Costa Brava offer some of the best destinations in the world today. You might also find the Balearic Islands in the Mediterranean, or the Canary Islands in the Atlantic fit your tastes more closely.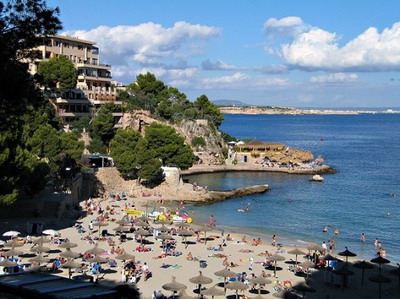 The La Costa Golf and Beach Resort
On the beautiful Costa Brava you will find the La Costa Golf and Beach Resort, between the mountains to the north and the Mediterranean Sea to the east, overlooking the Pals Beach area. All around is the wonderful 18-hole golf resort. There are two villas here, with over 60 double rooms and 55 smaller suites. Each is fitted with A/C, WiFi, and Satellite TV. Many other family facilities are included, such a children's garden play area and their own kid-friendly swimming pool. Special children's entertainment is also presented during July to August, and children's menus are always available, along with a special mini-club for them. A variety of bicycles, catamarans, and sailing dinghies are available at the resort.
Gran Hotel Atlantis Bahia Real
One the island of Fuertaventura in the Canary Islands, near the entrance to the famous Las Dunas de Corralejo National Park, there is a wonderful hotel, the Gran Hotel Atlantis Bahia Real. The park is quite spectacular, with wonderful sand dunes reaching almost 2km inland from the ocean. This resort is quite posh and well appointed, but also very family friendly. Children have many special facilities as well, such as a miniclub, video game area, and special menus. Whole-family packages are very common here, which include all meals, admissions to kids' club, spa treatments for adults, and a range of spacious rooms.
Near the heart of Salou is the H-Top Molinos Park resort. A short walk (less than 10 mins) takes you to a wonderful sandy beach and swimming area. The Universal Studios Port Aventura park is nearby, and special discount rates are often available through the hotel. The huge park is a major attraction in the area, along with other sites easily accessible. The hotel offers family plans including either half-board or full-board plans, and up to four adults can be accommodated on request. Every room has air conditioning, and a terrace or balcony. The hotel has a club for children, a jacuzzi and a swimming pool on site.