Travel guide for Seville, Andalucía, Spain
Seville - Andalucia's Capital City by Heather McMillan
Think Andalucia, think Seville! To many people, Seville encompasses all those things that make Andalucia special. The exuberant, colourful dresses worn at the April Fair, the whitewashed, characterful streets of the Barrio Santa Cruz, the heady scent of orange blossom and the emotional sounds of flamenco; all these typify Seville and are also the very essence of Andalucia.
Seville is the seat of Andalucia's government today, and it has always been one of Spain's most important cities. In the sixteenth century Seville was the gateway to the Americas. The treasure ships would sail up the Guadalquivir river to unload their silver cargo, enriching Seville in the process. Even before this time, Seville was a major city in Moorish Spain, and it is to the Moors that Seville owes the Giralda tower, which dominates the city. Its ornate top is a later Renaissance addition to the original Muslim tower, once the minaret of Seville's mosque. The mosque itself was replaced by Seville's monumental Cathedral. This cathedral was intended to be so large "that everyone, on beholding it, will take us for madmen"! Today it is the third largest cathedral in the world after St. Peter's in Rome and St. Paul's in London.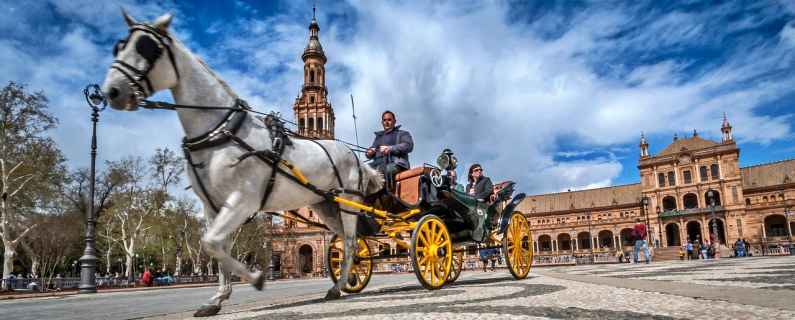 Few visitors leave Seville without seeing the Alcazar. This stunning building reminds many of the Alhambra in Granada but it actually post-dates Muslim rule in Spain. Its exotic decoration is known as Mudejar –a fusion of Christian and Moorish style. Built by the appropriately-named King Pedro the Cruel of Castile, its magnificent rooms were later the headquarters of Spanish expeditions to the New World, and it still serves as a royal residence from time to time today. The Alcazar's beautiful gardens are laid out in the Moorish style and are a wonderful place to stroll.
On the subject of gardens, there can be few more impressive in Europe than Seville's Maria Luisa Park. Formerly the grounds of the Palacio de San Telmo, these lush green gardens are a wonderful oasis in which to escape from the summer heat. Exotic palms, cool streams, shaded paths and many quiet corners in which to sit make this a perfect refuge after a busy days's sightseeing. You can also take a horse-drawn carriage ride around the park, which children adore, just as they also love a visit to Isla Magica, Andalucia's largest theme park, situated on the other bank of the Guadalquivir.

Seville is probably best known among travellers for two events – the moving processions of Holy Week and the colourful festivities of the April Fair. Anyone wishing to attend these events should book well in advance and expect to pay a premium for their accommodation! During Holy Week, figures of Jesus and the Virgin Mary are carried through the streets of Seville by hooded members of the 59 brotherhoods in the city. Each brotherhood has its own image, and the right to carry the image is highly prized. The images inspire great emotion in the watching crowds. The mood lightens shortly afterward for the April Fair, a lively celebration of spring. The visitor can enjoy bullfights, equestrian shows, and parades of horse-drawn carriages carrying elegant Sevillian women in beautiful flamenco dresses. Truly a wonderful and memorable introduction to Seville!

About the Author - Read more articles on holidays, food, lifestyle and property in Andalucia, Spain at our website www.andaluciacoastandcountry.com.
Copyright2007 Heather McMillan