Return to Rural Balearics Accommodation
Small & charming family hotel in the heart of Mallorca, Balearic Islands
Cas Comte Petit Hotel & Spa

C/. Comte d'Aiamans, 11
07360 - Lloseta
Mallorca
Balearic Islands
Spain

Ca's Comte is the result of a careful and thoughtful convertion. The original features and architecture of the XVIII century have been preserved and restored.

Ca's Comte was originally a noblemans country house (manor house), and it formed part of the Ayamans Palace.

Situated in the Raiguer region in the north of Majorca and at the foot of the mountain range, Serra de Tramuntana, the hotel is in the main square between the Church and the Ayamans Palace in the village center of Lloseta.

Ca's Comte has eight completely different and individual rooms, four doubles and four with en-suite facilities, providing our guests with the perfect combination of traditional splendour, modern comfort as well as the most advanced technologies.

All guest-rooms are equipped with a full-size bath and shower, (two of the suites with Jacuzzi), hair dryer, bathrobes, telephone and modem outlet.

Individual heating and air conditioning, radio and satellite TV, minibar and personal (in-room) safe.

Enjoy our wonderful spa facilities.
Photos of Suites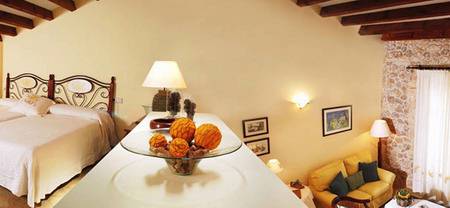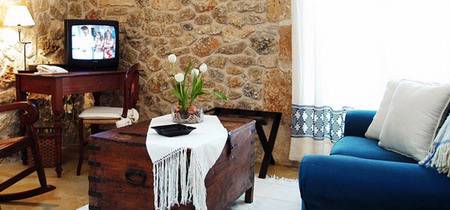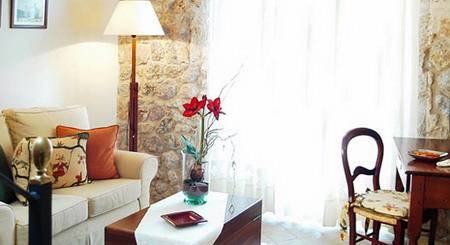 Photos of Double Rooms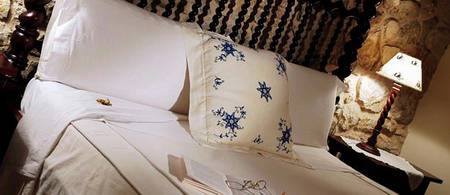 Photos of Bathrooms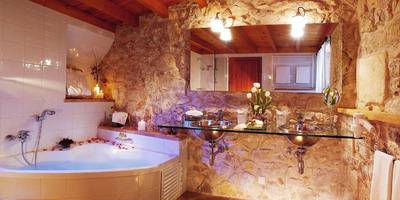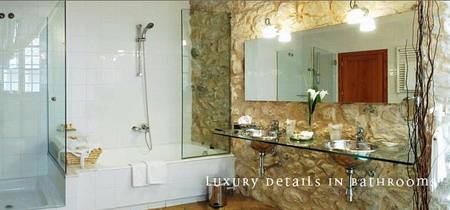 The diningroom, decorated in the traditional Majorcan style. The terrace and inner courtyard, a distinctive part of all 18th. century mansions, will take you back through time to experience the true lifestyle of that period. Our lounge with a traditional (wood-burning) fireplace is ideal for spending long hours just relaxing or reading by the fire.

Location:
The Raiguer region is situated in the eastern part of the island of Mallorca, between the mountain range, Serra de Tramuntana, and the plain, Pla. Thanks to its geographic surroundings, the enchantment of the mountains and the plain´s diversity of colours, it is among the island´s most attractive regions.
This region is rightly renowned for its handicrafts: pottery, wine, cloth, footwear, glass... As a result of having been one of the most populated areas in Majorca, its historic heritage is also one of the richest.
Finally, the Raiguer is an ideal place to spend a few days and get to know the characteristics and customs of a different Majorca.

Activities and distances from the hotel:

Shopping area - Ifebal/Palma de Mallorca 29.0 km
Principal Station- Lloseta 0.2 km
Bus Route 3.0 km
Airport - Palma de Mallorca 35.0 km
Highway 5.0 km
Beach 25.0 km
Taxis 0.0 km
Casino 35.0 km
Tennis Courts 3.0 km
Spa - on the premises

Squash 3.0 km
Golf Course 18 holes 20.0 km
Golf Course 9 holes 20.0 km
Surfing 25.0 km
Bicycle Hire 0.0 km
Walking paths 0.0 km
Horse Riding 4.0 km
Fishing 25.0 km
Sports Stadium 0.3 km
Gymnasium/Aerobics 3.0 km

Spa Facilities:

Sauna
Steam bath (hamman)
Ice fountain
Massage showers with essential oils
Jacuzzi
Relax area with thermal lounger and the massage room.
Cas Comte Petit Hotel & Spa


C/. Comte d'Aiamans, 11
07360 - Lloseta
Mallorca
Balearic Islands
Spain
Return to Rural Balearics Accommodation
Choose your favourite region below:
[ Andalucía ][ Aragón ][ Asturias][ Balearics ][ Canaries ][ Cantabria ][ Castilla La Mancha ]
[ Castilla y León ][ Cataluña ][ Extremadura ][ Galicia ][ La Rioja ][ Madrid ][ Murcia ][ Navarra ]
[ País Vasco ][ Valencian Community ]
Copyright © All Spain Accommodation
Latest update: June 14, 2013