A Day at Montjuic, Barcelona by Allex Wilson
Barcelona Hotels / Self-Catering/Holiday Rental Accommodation in Barcelona / Travel Guide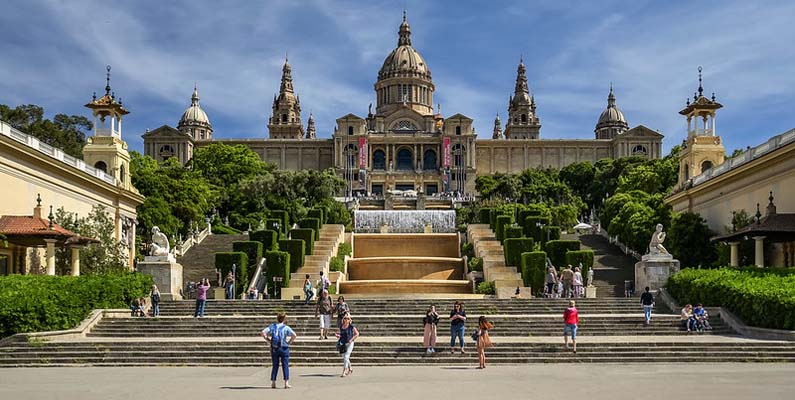 Montjuic -- a "Jewish Mountain"-- that is located high above in the Barcelona city center in a luxuriant, residential enclave that is known for its amazing view and the spectacular art it contains. In fact, a trip to Barcelona is incomplete without a visit to Montjuic's iro Museum, the national Museum of Catalunya and the spellbinding Font Magica.

All the Montjuic's transportation takes place from Plaça Espanya that is accessible from L1 and L3 lines of Metro. A large number of city buses are also available from popular spots like L'Eixample and Plaça Catalunya. Some people also like to walk from Plaça Catalunya to Montjuic by taking a leisurly walk around Gran Via. As you exit the bus or Metro at Plaça Espanya, you will be able to see the looming Museu Nacional d'Arte de Catalunya over a large stone staircase. As you walk up the Museum you'll be able to see lined fountains making an absolutely great entrance. The museum wins the heart of any visitor.

You should also visit the Catalonian artist Joan Miro. Joan below is famous for his descriptive and imaginative works that features abstract images of women, stars and other figurines. His works consists of very thin ink lines and has been appreciated by many. You'll be charmed by his descriptive lines that he gives to his works. The view of his exemplary work of art from the rooftop of the terrace is also worth viewing.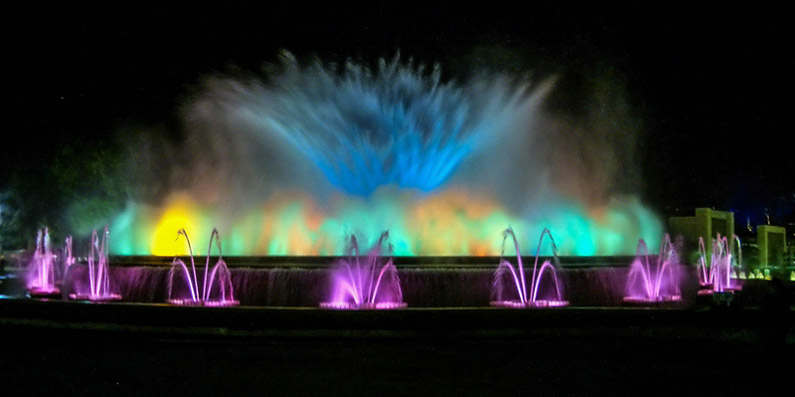 You must also visit the CaixaForum in Montjuic. This is a free museum that is operated by Caixa bank. The museum features contemporary art exhibitions of painting, sculpture, photographs and digital art. The featured collection keeps on changing regularly. You can take a break and visit the café con leche or a bocadillo (sandwich). Browsing the bookshop that has a large collection of famous book in the lobby is also possible.

Olympic diving complex is amongst Barcelona's. And not so famous treasures but you can swim down here and gaze at the Sagrada Familia and some other landmarks also. The boat is very less crowded compared to city beaches.

At night you can see the Font Magica -- an enormous fountain. The place was built for world exposition in the 1929. This musical fountain is based on various themes such as "William Tell Overture" and "Star Wars" and the show keep on changing regularly.
This way your single day in Montjuic, Barcelona will turn into a complete experience.
Barcelona Hotels / Holiday Rentals in Barcelona / Travel Guide
Latest update: November 24. 2019