Barcelona Airport by Meredith Jones

Barcelona Hotels / Barcelona Self-Catering Apartments
Return to Cataluña Travel & Accommodation Guide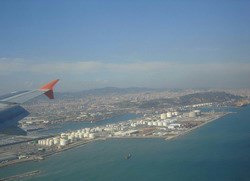 Airport Address
Barcelona Airport Edificio Bloque Tecnico 08820 El Prat de Llobregat Spain
Airport Code BCN
General Information on Barcelona Airport
Barcelona's airport, El Prat, is modern and is situated approximately 12km of Barcelona city.
Terminal A
This is used for flights that are not coming in from Spain. There are banks, cash machines, and a variety of restaurants and bars here. Tourist information desks are available here.
Terminal B
This is used for domestic flights in Spain. There is a left luggage facility here in the Arrivals area. There are banks, cash machines and a variety of restaurants and bars here. Tourist information desks are available here and there is also a hotel information desk that is situated in Terminal B. The Sala Europa conference room is situated in Terminal B and can be hired out. Here there are facilities such as fax, internet, telephone and other media options.
Both Terminal A and Terminal B have lifts, escalators and ramps for making life a little easier for disabled passengers. There are Disabled toilet facilities in both Terminals and also telephones that are at wheelchair height in both Terminals.
Transportation
Taxi
In front of both Terminals there are taxi ranks. Go to the front of the queue as they work on a queue system. There is a supplement on top of the taxi fare for travelling from the airport. The journey to Barcelona city centre takes approximately 25 minutes.
Bus
From the Terminal buildings there are regular buses.
Trains
Trains run to the city centre on the RENFE Mataro line. The RENFE Cercanias station in linked to the passenger terminal by a travelator. This is to be found between Terminal A and Terminal B. From Barcelona Sants station trains leave every 30 mintes to the airport. It takes around 20 minutes.
Road
From Barcelona city centre take the Barcelona ring road and the exit to the airport via Pata Sur. The airport access road is called the Barcelona-Castelldefels C-31 motorway. This connects to the Barcelona-Stiges C-32 motorway.
Car Hire Barcelona airport
There are several car hire companies based at Barcelona airport. The rental companies for car hire are at Barcelona airport are based in Terminal B. The car hire companies are next to each other so each offers competitive prices. It is recommended you pre-book your car during busy holiday periods.
Car Parking
The airport has a large car parking area with over 10,000 spaces and with 24 hour security. The car park operates a ticket system on entry through a barrier. Parking is only allowed in designated marked areas otherwise cars will be towed away. Take your car park ticket with you when you leave your car as you pay for your ticket at one of the ticket machines within the airport when you return. If you find on your return you have a flat battery there is a free jump start service.
Useful phone numbers
Airport Reception +34 932983838
Air Europa +34 932983328
Air France +34 901112266
Iberia +34 902400500
Swissair +34 901116706
Police +34 933791016
Customs +34 933705155