Monthly article April: Spanish Desserts
Chocolates and Churros: The best in Spanish desserts!
By Jonathan Irish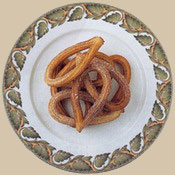 When people go to Spain on vacation they have to remember that Spanish food is not Taco Bell! When I first moved to Spain I didn't know what to expect, but when I got there I was pleasantly surprised. During my time in Spain (2½ years) I had everything from rice, pasta, fruits, to my personal favorite, Spanish desserts.
Let me be the first to say that Spanish pastries are some of the best in the world. A typical Spanish food that an American might be familiar with is churros, originally from the Spanish highlands. In Spain they are bigger and better and should be eaten with chocolate. Churros con chocolate (churros and Spanish hot chocolate) should be eaten by dipping the churro in the chocolate. If you should finish your churro you can just sip the remaining chocolate or scoop it out with a spoon. Most cafés offer them, and they are always delicious..
In several towns throughout Spain you will find churreros (churro makers), like the ice cream man, selling fresh ones on Sunday mornings.
Another Spanish dessert that has yet to be truly discovered in the United States is the napolitana — a flaky chocolate filled pastry found anywhere in Spain. It is important to know that a napolitana pizza is not made of chocolate although it has the same name. A pizza or sandwich napolitana typically has tomatoes, mozzarella, olives, pine nuts, and you can add tuna or ham. A great meal for lunch and dessert can be a napolitana washed down with a frozen Spanish horchata.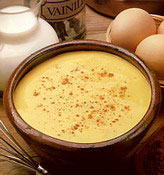 There is a pasteleria (pastry shop) on almost every street, and the pastries there are much better than in the grocery stores. But grocery stores do have turron, a bar made out of honey and almonds which forms a soft nougat. If you crave chocolate there is one with rice, basically a huge Crunch bar. Turron is popular during the Christmas season but can be found year–round. I recommend Turron de Jijona which is similar to almond peanut brittle but thicker.
Apart from pastries you have several custards such as flan, natillas (cold custard and cinnamon), and crema catalana (similar to creme brulée). Flan, which can be either vanilla or egg, in my opinion is the Spanish food equivalent of pudding. Most kids eat flan or natillas after a meal in school or at home. All in all what you find in Spanish food is a variety of great desserts.
If you are craving cake or other typical American desserts such as chocolate chip cookies, you might be a little disappointed. Tortas (cakes) are a little dry for me and are not sweet, usually more of a bread than a cake, and chocolate chip cookies are hard to come by. Of course there are the typical candy bars, but I recommend the chucherias (candy stores) which are just as common as the pastelerias. A Euro can get you an assortment of jelly and marshmallow candies.
So when you are looking to try authentic Spanish food make sure you take some time walking up and down the ramblas (boulevard) and stop to get yourself a real Spanish treat! ¡Vive España!