Return to Travel Articles
Fuengirola on the Costa del Sol in Southern Spain by Anne Sewell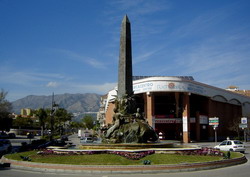 You might have already visited Fuengirola in summer - too many people, burning summer heat? Time to replan your Spanish holiday!
The ideal time to visit this vibrant coastal city is during autumn and spring. Mild and pleasant temperatures, glorious sunshine, and quieter streets and beaches make for a really enjoyable holiday! You will find people smile just that little bit easier, shopping and dining are an absolute pleasure, and you can enjoy all the attractions this city has to offer in comfort.
Wonderful sandy beaches, relatively empty out of season, stretch along the coast with many restaurants, bars and chiringuitos (beach cafes) to choose from. Plenty of good shops including fashion, food, shoes, etc. and some excellent new shopping centres have opened up on the border of Fuengirola and Mijas.
Fuengirola is very convenient to Malaga airport - a short drive or train ride away, and is also close to Marbella and other attractions on the Costa del Sol (also known as the Costa del Golf for golfing fans!)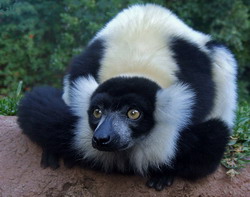 Other major attractions in Fuengirola include:
Bioparc Fuengirola:
Right in the middle of town is an oasis of calm, a world class zoo with wonderful animals in very natural enclosures. Appropriate regional sounds play as you walk around the various areas of the zoo. Of particular interest are the Sumatra Tigers, the gorillas, and also the Lemur enclosure, with many of these fascinating creatures from Magagascar. This enclosure is open with a tour guide at certain times of the day - ask when you arrive at the zoo for a close up experience with magical lemurs. Best time to visit is either early morning (zoo opens at 10 am) or late afternoon.
On a hilltop, close to the centre of town is the Sohail Castle. Makes a pleasant stroll (if a bit uphill), with wonderful sea views from the top.
Fuengirola Port: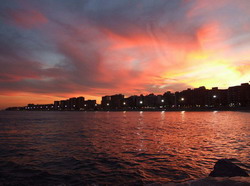 The port of Fuengirola consists of two sections:
A working fishing port where it is fascinating to watch the fishermen offloading their catches from the boats - you can also take a pleasant stroll around the port from this point and look at the many boats moored in the port, and also magnificent mountain views.
A leisure boat marina, with many attractive yachts and other boats. In this area are several pubs and restaurants, and also enjoyable boat trips are on offer, including sailing boats and glass bottomed boats for viewing the dolphins.
So come and visit Fuengirola and enjoy our city in the so called "off season"! You won't regret it, and will have a wonderful holiday!

About the Author - Anne Sewell is involved in web based accommodation reservations and advertising in Fuengirola, Spain.