Southern Spain - Nothing Like It! by Allex Wilson
From the magnificent architecture and winding streets of the old Seville and the dramatic hill towns that surrounds Ronda to the entrancing Malaga's seaside city, Southern Spain (famous by the name of Andalusia) is a copious blend of natural delights and man-made wonders. With captivating warmth, you're likely to feel an inviting climate in Southern Spain, all year round.
The best way of reaching Southern Spain is to fly to the capital of Andalusia, Seville. The mesmerizing city had been originally laid in order to confuse the invaders who were attempting to conquer the city. It is said that the invaders kept wandering in the winding streets of the city absorbing the perfect delight. The city's Tapas hard-to-reach and the nighttime begins to attract the hoppers who like to move from one restaurant the other rather then getting stagnant at one. The most amazing attraction you will find in Seville is it's Cathedral that adjoins the famous Giralda Tower. This Cathedral is extravagantly decorated with a large amount of gold from all corners and the adjoining Tower is the tallest building that was ever constructed in the world before 1184.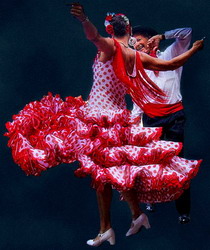 From Seville, you can move towards the South in Jerez (de la Frontera). This midsized city is much famous as the birthplace of sherry. The place is also home to a number of sherry 'bodegas' (wineries). You must stop at the School of Equestrian Art, a place where training sessions and colorful equestrian pageants can mesmerize you.
Your next stop should be Cadiz which is a short drive towards the south over the unspoiled Andalusian Atlantic coast. The city is known to serve a range of mouthwatering Seafood. A large number of monuments and Plaza's such as the gold-dome wonder that took about a century in making is worth a visit.
From Cadiz you should make your way towards the Arcos de la Frontera which is situated northeast. With small city is known for an eye-catching ridge. The city is worth spending a night and offers a lot that you can see. A captivating castle and a Gothic church are amongst the few attractions. Your next travelling destination if you travel towards the northeast will be the town of Ronda which is known for the amazing attractions including the remains of Roman origin. A bustling shopping promenade and fabulous bull-ring should not be missed.
Your final stop should be Malaga which is a handsome seaside city and is known for the Moorish influence it. Amongst various attractions the Home Museum of Picasso is worth a visit.