Wines from Spain by Gary
If you are asked to name a Spanish wine it is most like that you will say Rioja as this is probably the most famous, however Spain really has so much more to offer all lovers of fine wines.
Spain has a long history of producing fine wines, 50 percent of all the EECs vineyards lie in Spain and offers an excellent and memorable selection of Reds, White and Rose wines, which thankfully, are still for the most part inexpensive for the quality on offer.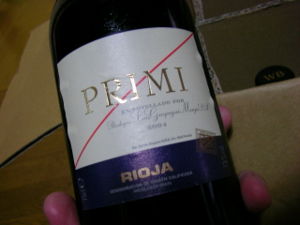 Rioja (from the yards around Logroño) is rightly Spain's best known wine and available in most shops and restaurants throughout Spain - Cune, Berberana, Marques de Caceres and La Rioja Alta are also brands well worth a try. Another top-drawer and currently fashionable region is Ribera del Duero in Castilla-León which makes Spain's most expensive wine, Vega Sicilia, other outstanding reds to look out for are Pesquera, Viña Pedrosa and Senorio de Nava. There are also scores of local wines - some of the best are Navarra (Chivite, Palacio de la Vega) and Catalunya (Bach, Raimat, Caus Lubis and Alvaro Palacios), a region which also produces the champagne-like cava (Codorniu, Marques de Monistrol); Galicia too, in the temperate northwest is producing some notable white wines (Ribeiro, Fefiñanes and Albariño are prominent producers).
You will find many establishments in Spain offer excellent quality menus for around 6 to 10 Euros, some of which (mostly those catering for the local clientele) will even include a bottle of wine for two persons. For the most part the wine included is adequate in quality, most establishments serve Valdepeñas which is a reasonable mass produced wine from the central plains of El Castile, however not all Establishment owners offer the same integrity to their clients and the cheaper brew I have tried has been lets say, been bad to horrible, and mostly forgettable.
Most Restaurants will offer a thoughtful and varied Carta de Vino (Wine List), even the smaller establishments, and at very reasonable prices; it is not unusual to see good quality house wines for around 8 Euros. As you would imagine though the better wines are only normally found at the higher class establishments.
You can see the complete guide to wines in Spain via the web site at http://spainguides.com/wine.html