Buy at AllPosters.com
| | |
| --- | --- |
| FUENLABRADA FEATURED HOTELS - COMMUNITY OF MADRID | |
Fuenlabrada is a city and municipality in the autonomous community of Madrid, Spain. It is located to the southwest of the center of the city of Madrid in the greater metropolitan area and had a population of 196,318 in 2004. Famous people from Fuenlabrada include Liverpool striker Fernando Torres. Nelson Torres, who is Fernando's little cousin was also born in Fuenlabrada. He has since moved to Sydney, Australia and is a star in the upcoming youth ranks of Sydney. He is notable for his identical playing style to Fernando Torres.

Sports clubs based in Fuenlabrada include:
Baloncesto Fuenlabrada, basketball
CF Fuenlabrada, football
Egido Hotel Las Provincias, Fuenlabrada
The Egido Las Provincias is located in Fuenlabrada, Spain, 25 kilometres from Madrid city centre. Madrid's attractions, including the Prado Museum, the Royal Palace, and the Xanadu amusement park, are all within 20 kilometres of the hotel. The historic city of Toledo, a UNESCO World Heritage Site, lies 80 kilometres south of Fuenlabrada. The Egido Las Provincias is a modern property with a lobby area featuring contemporary design with wood-panelled walls and marble flooring. The hotel has a garden terrace, covered parking facilities, and wireless Internet access available throughout. The Egido Las Provincias has a bar, cafeteria, and a restaurant that is open for breakfast (complimentary), lunch, and dinner. The hotel has fully-equipped meeting rooms and conference facilities.
H2 Fuenlabrada Hotel, Fuenlabrada
This modern and practical hotel is located next to the motorway linking the capital with the historic city of Toledo, 15 minutes away from the centre of Madrid. The H2 Fuenlabrada provides ideal accommodation for a business trip to the capital. It is also a highly practical place to stop off and rest on a long trip, given its location next to the A42 motorway to Toledo. The hotel offers a complete buffet breakfast, plus a restaurant and cafeteria offering meals 24 hours a day at competitive rates. The hotelís rooms are modern and equipped with state-of-the-art technology, including 32-inch flat screen TVs.
Search for more Fuenlabrada hotels and surrounding areas
| | |
| --- | --- |
| GETAFE FEATURED HOTELS - COMMUNITY OF MADRID | |
Getafe is a city in the southern zone of the Madrid metropolitan area, Spain, and one of the most populated and industrialized cities in the municipality. The city is home to one of the oldest Spanish military air bases, as well as the Universidad Carlos III de Madrid. Also located within the city is the Cerro de los Ángeles, or Hill of the Angels, a site considered to be the geographical center of the Iberian Peninsula. The city is located 13 km south of Madrid's city centre, within the metro area. It is situated within a flat area of Spain's Meseta Central in the Manzanares River basin.

Getafe's proximity to Madrid has propagated great industrial development during the 20th and 21st centuries. The industrialization of Getafe led to an increase in population to 159,300 (as of December 2007). Due to its industrial and social networks, the majority of residents work or study within the city, and has mitigated its transformation into a commuter town. The increase in population has led to the construction of numerous access roads, an increase in available public services, and the creation of new neighborhoods at the end of the 20th century.
AC Getafe
The AC Getafe is a modern hotel set 11 kilometres from the Vista Gardens with their beautiful sunset views of the Guadarrama Mountains. The Prado Museum, one of Europe's finest art collections, the monuments at Retiros Park, the galleries of the Thyssen Museum and the 17th century Royal Palace are all 12 kilometres from the hotel. Madrid Barajas is an approximate driving time of 30 minutes and a distance of 15 kilometres. The Akanto restaurant is an exponent of the finest contemporary Spanish cuisine based on fresh, seasonal products. It also offers a wide selection of wines from the best Guaranteed Origin regions. The design is modern and minimalist, creating an intimate and sophisticated atmosphere that invites to enjoy the gastronomy, which includes a daily set-menu. Relax with drinks in the hotel bar or order light meals from the 24-hour room service menu. Those guests wishing to surf the web or catch up with emails can take advantage of the hotel's complimentary internet access.
Hesperia Getafe
The Hotel Hesperia Getafe is a modern red brick hotel located in the Getafe business and industrial area south of Madrid, 16 kilometres from the city centre. The Hotel Hesperia Getafe is only five kilometres from the religious site of Cerro de los Angeles and 16 kilometres from the attractions of Madrid city centre, including the Retiro Park and Prado Museum. Madrid Barajas Airport is driving distance of 25 minutes. Guests of the Hesperia Getafe can enjoy modern cuisine and typical Spanish dishes in the restaurant, relax with a newspaper and a coffee in the hotel lobby or order up a snack from room service. To keep in touch while in Getafe, wireless Internet access is available for those with laptops and the hotel has a business centre and conference rooms for holding functions in Getafe. Other practical amenities include laundry facilities and currency exchange. Parking is free for guests.
Search for more hotels in Getafe and surrounding areas
| | |
| --- | --- |
| LÉGANES FEATURED HOTELS - COMMUNITY OF MADRID | |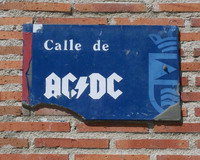 Leganés is a town in central Spain. Part of the greater Madrid conurbation - mainly a working class satellite-city with a population of 184,481 (1 January 2005) it is located about 10 km southwest of the city centre. On 3 April 2004 Leganés achieved a measure of unwanted notoriety when five of the suspects in the 11 March 2004 Madrid attacks blew themselves up in an apartment building as police moved in to arrest them. All five were killed, along with one GEO police officer.

Leganés houses a branch of the Universidad Carlos III, founded in 1989, namely the Escuela Politecnica Superior (EPS) which offers Telecommunications Engineering, Industrial Engineering and Computer Engineering. Universidad Carlos III is recognized as first-class in research and teaching among other universities in Spain. The other campuses of University Carlos III are situated in Getafe and Colmenarejo, however the one located in Leganés is the only one that has a swimming pool. Leganés' student accommodation building is called Fernando Abril Martorell and has a capacity of 300 students.

It is connected to Madrid via the Cercanías (Train, line C5), and Metrosur, one of the lines of Metro. Leganés has 6 Metrosur's stations. Parquesur, in Leganés, in the early 90's was one of the biggest shopping centres in Europe. It was completely refurbished and extended in 2005. Leganés has a street named AC/DC in honor to the famous Australian rock band. The band visited Leganés in order to inaugurate the street. The street sign was frequently stolen until the council decided to paint it on the wall instead of replacing the sign over and over again. The photo shows the original sign...
Hotel AR Parquesur, Leganés
The Hotel Parquesur is located in Leganés, southern Madrid, Spain. The city centre is nine kilometres away and is easily accessible by metro; the nearest metro station is 500 metres away. The hotel is part of Parquesur Shopping Centre, which has cinemas, restaurants, bars, shops, and a bowling alley. The Warner Bros International Theme Park is 15 kilometres away. A hacienda-style property built around a landscaped lake, the Hotel Parquesur has a 24-hour front desk and offers complimentary newspapers in the lobby. Room service is available during restaurant opening hours, and there is wireless Internet access throughout. complimentary parking is provided. The hotel's restaurant, La Parilla de Leganés, specialises in rice dishes and charcoal-grilled meat. There is also a wine cellar offering private dining for six. The restaurant is open for breakfast, lunch, and dinner.
Hotel Tryp Leganés
The Hotel Tryp Leganes is a modern hotel located in Leganes, 15 kilometres outside Madrid, 1.5 kilometres from Casa del Reloj metro station for easy access to Madrid city centre. Madrid has many attraction and sights to visit; guests will find Bernabeu Stadium, home of Real Madrid football team, just 11 kilometres from the hotel. Guests can unwind after a long day with coffee and drinks in the bar café area or browse complimentary newspapers in the air-conditioned lobby. Wireless Internet is available for guests with laptops and the hotel has five well-equipped, modern meeting spaces and caters for weddings. Other practical amenities include currency exchange, a dry cleaning service, laundry facilities, and translation services. For those arriving by car secure parking is available for a surcharge. Although the hotel does not have a restaurant, the surrounding area offers various dining options for all tastes.
Search for more Leganés and surrounding areas hotels
| | |
| --- | --- |
| MÓSTOLES FEATURED HOTELS - COMMUNITY OF MADRID | |
Móstoles is the second-largest city in population belonging to the autonomous community of Madrid. Móstoles was for a long time only a small village, but expanded rapidly in the twentieth century.

To some extent it is a dormitory suburb of Madrid, but it has "polígonos" (industrial estates). The city also hosts the main campus of the Universidad Rey Juan Carlos. Politically, the city has moved from the left to the right in recent years. Since 2003, the mayor of Móstoles has been Esteban Parro del Prado (Partido Popular). Móstoles became famous on May 2, 1808, when, although it was only a small village, one of its two mayors, Andrés Torrejón, declared war on France, following the uprising the same day in Madrid which started the Peninsular War. A resident of Móstoles, Manuela Malasaña, became a popular heroine of the uprising that day; a subway station in Móstoles and a neighbourhood in Madrid are named after her.

Famous people from Móstoles: Real Madrid and Spanish players: Iker Casillas and Ruben de la Red, 2005 European Gymnastics Champion Rafael Martínez, and actor and TV presenter Christian Gàlvez Montero. Some of the most important monuments in Móstoles are; the Mudejar-styled church of La Asunción, whose tower provides a home for storks; the Baroque hermitage of La Virgen de los Santos (from the 17th century) and the Monument To The Mayor (1908), located in Pradillo Square.
AC Móstoles
This newly built hotel with 91 rooms is both modern and functional. Located along the N-V in the business area of Móstoles, it is close by and has easy access to the major shopping and leisure centers in southern part of the Community of Madrid. The hotel also offers wide, open halls that are ideal locations for business meetings, conventions and conferences. The restaurant is the perfect place to enjoy a delicious dinner in a relaxed and refined atmosphere. Its menu is made up of simple dishes prepared with products from the market. At mid-day, it offers a full variety of menus for groups with an advance reservation. In the morning, customers can enjoy a full breakfast buffet with foods for all tastes and diets. We want our guests to be in good shape to enjoy their stay. We therefore provide a free Fitness Centre, where you will find Bodybuilding equipment, exercise benches, television and mini Hi-Fi system, as well as a selection of mineral waters, all offered free of charge.
Search for more hotels in the Móstoles area
| | |
| --- | --- |
| PARLA FEATURED HOTELS - MADRID METROPOLITAN AREA | |
Parla is a municipality of the Madrid Metropolitan Area, Spain. It is located in the southern part of the autonomous community, approximately 20 km from the capital, Madrid. It encompasses an area of 23.43 km² at an average altitude of 648.5 m AMSL. In 2008, the Instituto Nacional de Estadística (INE) reported the local population to be 108,051 inhabitants at a density of 4193.94 inhabitants/km².

The municipality of Parla covers an area of 24.43 km². It borders six municipalities of the community of Madrid: Fuenlabrada to the North; Torrejón de Velasco and Torrejón de la Calzada to the South; Pinto to the East; and Griñón and Humanes de Madrid to the West. Its elevation is 648.5 meters above sea level.
Hotel Aquaria Ciudad de Parla
The Hotel Aquaria Ciudad de Parla is a modern hotel situated beside the N401 motorway, 20 kilometres south of central Madrid. The hotel is situated approximately 15 kilometres from Warner Bros. 20 kilometres from the bustle of central Madrid, and 48 kilometres from historic Toledo. Breakfast (surcharge) is served each morning and there is a café bar, serving drinks, snacks and light meals, as well as a restaurant which offers typical Spanish dishes. Guests can keep in shape with use of the hotel's fitness equipment or enjoy a massage in-room. There is a high-speed Internet point in the hotel, and there are function rooms with capacity for up to 800 people. For drivers there is free parking (open air and garage).
Search for more hotels in the Parla area
| | |
| --- | --- |
| PINTO FEATURED HOTELS - COMMUNITY OF MADRID | |
Pinto is a town in the southeast of Madrid (Spain). Formerly, the belief was that Pinto sat on the geographic middle of the Iberian Peninsula, hence its name comes from the Latin Punctum, "point". The famous Warner Brothers Theme Park is approximately 8 kms away.
Egido Villa de Pinto
The Villa de Pinto is located in Pinto, Spain, next to the commercial and industrial area, and one kilometre from Pinto RENFE train station. The Warner Brothers Park is eight kilometres away, and Madrid city centre is 22 kilometres from the hotel. A modern, four-storey property, the Villa de Pinto features a lobby finished in cherry wood and furnished with comfortable sofas. Motorists will find garage parking on site. The hotel is equipped with wireless Internet access throughout. The restaurant and cafeteria serve light meals, snacks, and drinks throughout the day. Drinks are served on the terrace in summer. The 66 air-conditioned guestrooms at Villa de Pinto feature modern decor in light shades, offset by bold fabrics.
Hotel Princesa de Eboli, Pinto
The Hotel Princesa de Eboli is located in the town of Pinto, Spain, five kilometres from the Warner Brothers Theme Park and 23 kilometres from central Madrid. A contemporary five-storey property, the Princesa de Eboli offers a fitness suite, TV room, and library lounge. Multilingual staff at the front desk can offer currency exchange, concierge services, and the use of a safe-deposit box. Limited-hours room service is offered. The hotel offers garage parking for a surcharge. The Restaurant Princesa de Eboli serves modern Spanish and international dishes in a light, contemporary setting. Breakfast is offered every morning for a surcharge. The 97 guestrooms at the Hotel Princesa de Eboli are defined by wooden floors, contemporary decor in light shades, and modern furnishings. All are equipped with satellite television, high-speed Internet connections, and minibars.
Hotel Plaza de Santiago, Pinto
The Hotel Plaza Santiago is located in Pinto, Spain, 100 metres from the town centre and seven kilometres from the Warner Brothers Theme Park. The centre of Madrid is 21 kilometres away. The Hotel Plaza Santiago occupies a modern four-storey building and is set in its own gardens with a terrace area. Wireless Internet access is available in public areas and garage parking is provided. The Hotel Plaza Santiago houses the Restaurante Savarin which serves a range of local and international dishes. Complimentary breakfast is served each day. The 68 guestrooms have modern decor with bright fabrics and wood furnishings. All rooms have air conditioning, complimentary Internet connections, and televisions, and further amenities include direct-dial phones, minibars, and safes.
Search for more hotels in Pinto and surrounding areas
| | |
| --- | --- |
| SAN SEBASTIÁN DE LOS REYES FEATURED HOTELS - COMMUNITY OF MADRID | |
San Sebastián de los Reyes (colloquially called "Sanse") is a city in the Community of Madrid in Spain. It is located 20 km north of Madrid. The city is twinned with Baunatal in Germany. It is geographically joined with neighboring Alcobendas and they share a common RENFE commuter line to Madrid Atocha. Access by road is also excellent as it lies at the northernmost junctions of the motorway network to Zaragoza, Burgos, Barajas airport, and the Madrid motorway highway. Major industrial companies have branches in San Sebastián de los Reyes, including IKEA, Leroy Merlin, PC City, Selther, Carrefour, Alternate, Media Markt, Telepizza, Antena 3, and many more.
F&G de Los Reyes, Sebastián de los Reyes
The FG de los Reyes is a modern, low-rise red-brick hotel located in the suburb of San Sebastian de los Reyes, 13 kilometres from the Jarama Circuit and 18 kilometres from Madrid city centre. Madrid Barajas Airport is 14 kilometres away, with an approximate driving time of 15 minutes. The FG de los Reyes hotel offers nightcaps in the bar, and public areas are equipped with wireless Internet access. Other amenities include room service (limited hours), multilingual staff and wedding services. Motorists will find secure parking on site. The Real Restaurant serves a selection of traditional regional specialities and international favourites. The 72 light, modern guestrooms feature striped fabrics, parquet flooring and simple wood furnishings. All open onto balconies and are equipped with cable television, wireless Internet access, minibars, and bathrooms with robes.
Hotel AC Sebastián de los Reyes
The Hotel AC San Sebastian de los Reyes is a modern hotel situated in the commercial area of San Sebastian de los Reyes, 15 kilometres from the centre of Madrid. Those interested in sightseeing can use the Internet to plan an itinerary. The Bernabeu Stadium, home of the legendary Real Madrid football club, is 10 kilometres from the hotel while the Royal Palace is 14 kilometres away. Madrid Barajas Airport is 10 kilometres from the hotel, with an approximate driving time of 10 minutes. Guests can work out in the fitness room, and then unwind with a drink in the bar. The San Sebastian de los Reyes Restaurant is decorated in a minimalist style in greys and blacks, and serves Mediterranean and international dishes. Room service is on offer round the clock, and the hotel has a business centre. Those arriving by car will find free outdoor parking; garage parking is also on offer for a surcharge.
Search for more hotels in San Sebastián de los Reyes and surrounding areas
| | |
| --- | --- |
| TORREJÓN DE ARDOZ FEATURED HOTELS - MADRID METROPOLITAN AREA | |
Torrejón de Ardoz is a town in the urban area of Madrid, Spain, and has about 110,000 inhabitants. It is a town 20 km east of Madrid on the NII highway (Madrid-Barcelona). It is essentially a dormitory town, mostly consisting of apartments. It can be reached by bus from Av. de América bus station in Madrid (about 20 minutes) or by suburban train from Madrid's Atocha station (30m).

The European Union Satellite Centre, an agency of the European Union, is located in Torrejón de Ardoz. During the Spanish Civil War it was the site of a massacre of anti-Republican soldiers and alleged Nationalist civilians by members of the Communist Party, supposedly acting under the orders of Santiago Carrillo. There is also a military airbase in Torrejón de Ardoz. This base uses to receive business jets, and its runway can be seen to the right when landing at Madrid's Barajas airport. For years, the American Air Force occupied the base under agreements made with General Francisco Franco; protecting NATO's southern flank. One of the election platforms of Felipe Gonzalez' socialist party (PSOE) was to close the base to the American fighter wing. Keeping his election promise, the 401st Air Expeditionary Wing's lease was not renewed and the F-16 fighter wing left the base in the very early nineties. It is also the birthplace of former Toronto Raptors forward Jorge Garbajosa, Real Madrid midfielder Guti and professional wrestler Glenn Jacobs, better known by his ring name Kane.
Hotel Asset Torrejón, Torrejón de Ardoz
The Hotel Asset Torrejón is located in Madrid, Spain, 500 metres from Torrejón de Ardoz Train Station. Alcalá de Henares is two kilometres away and the historic city centre of Madrid is 20 kilometres from the hotel. Situated on Plaza de Espana in the Torrejón de Ardoz business district, the Hotel Asset Torrejon is a modern, eight-storey glass-fronted property. A complimentary shuttle service runs to the airport and a number of business destinations. Motorists will find valet parking on arrival (surcharge). Decorated with an America's Cup sailing theme, the Livonia Restaurant is located on the first floor and affords views over Plaza de Espana. The menu offers Spanish and international fare. The street-level Cafeteria Asset offers light meals and cocktails and is accessible from Plaza de Espana. Public areas offer complimentary wireless Internet access. The Hotel Asset Torrejon offers a sauna and a gym with fitness equipment. Massage treatments are also available.
Search for more hotels in Torrejón de Ardoz and surrounding areas
| | |
| --- | --- |
| VILLAVICIOSA DE ODÓN FEATURED HOTELS - MADRID METROPOLITAN AREA | |
Villaviciosa de Odón is a municipality in the western zone of the Community of Madrid in Spain. The city is located 15 km west Madrid's city center, in the western zone of the metro area. Located within the city is the Spanish Air Force Museum and the Universidad Europea de Madrid. Villaviciosa quiet lifestyle and its proximity to Madrid propagated a great urbanization development during the end of the 20th century. Also because of the proximity of the Universidad Europea de Madrid, it has become a university city with a well developed student residential zone and entertainment.
Hotel Quo Godoy, Villaviciosa de Odon
Newly-built, the ultra-modern Hotel Quo Godoy is situated in the town of Villaviciosa de Odón, 18 kilometres from central Madrid and 38 from the airport. Nearby attractions include the waterslides and tubes of Acuapark, 10 kilometres away, and the indoor ski slope at the Xanadu shopping centre, 11 kilometres away. Madrid Barajas Airport is 38 kilometres from the hotel with an approximate driving time of 25 minutes. Complimentary transfer service in the Villaviciosa area is available. Guests can relax with a range of pampering beauty and massage treatments or aquatic therapies in the spa. After working out in the high-tech fitness area, taking a pilates or aerobics class or swimming laps in the heated indoor pool, exercise enthusiasts can then unwind in the jetted tub. Later, guests can enjoy cocktails from the bar or lattes in the café, and room service is on offer between certain hours. The hotel has a hair salon, and multilingual staff at the 24-hour front desk can advise on local amenities and places to visit.
Search for more hotels in Villaviciosa de Odon and surrounding areas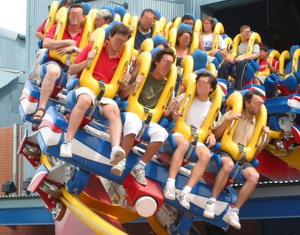 Parque Warner Madrid (previously known as Warner Bros. Movie World Madrid and Warner Bros. Park) is a theme park located 25 km southeast of Madrid, Spain, in the municipality of San Martín de la Vega. The park opened on April 5, 2002, under the management of the Six Flags chain, with a 5% ownership share held by Time Warner.

In November 2004, the management arrangement with Six Flags was terminated, with the park now managed by Time Warner and numerous Spanish investment groups. The name change to Parque Warner Madrid occurred at the start of 2006.

The park is divided into five themed areas: DC Super Heroes World, Cartoon Village, Old West Territory, Hollywood Boulevard, and Warner Bros. Studios.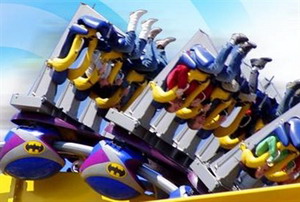 Shows and attractions
Among its roller coasters highlights include Superman: The Attraction of Steel, a first in Europe with its floorless trains, Batman: The Escape, an inverted roller coaster, Coaster Express, a wooden coaster and Stunt Fall, a Giant Inverted Boomerang offering guests a vertical drop of 54'4m reaching a top speed of 115 km/h. Another prominent attraction is The Revenge of the Enigma, a structure 100 meters high that drops visitors at 80 km/h.
The latest attraction at the park is The Adventures of Scooby-Doo, an interactive attraction for families, manufactured by US firm Sally Corporations.
The 2006 season saw the premiere of two new shows, Police Academy 2 and Batman Begins, the latter based on the latest movie from Warner Brothers and DC Comics. Both have received good reviews from visitors to the park.
The 2008 season saw two further developments, a family water attraction called Yogi Bear and Bubu and a new show, The Music of Bugs Bunny, based around the glamor of Hollywood in a performance reminiscent of the great Broadway musicals.
Top