| | |
| --- | --- |
| - GRAZALEMA FEATURED HOTELS, CADIZ PROVINCE, ANDALUCIA, SPAIN | |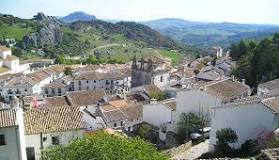 Grazalema is a traditional Spanish white village (pueblo blanco) located in the northeastern part of the province of Cádiz, in the autonomous community of Andalucia, Spain. It is situated in the foothills of the Sierra del Pinar mountain range (Sierra de Grazalema Natural Park).

In the heart of the village is an attractive main square, the Plaza de España, lined with bars and restaurants.
Hotel Fuerte, Grazalema
Situated in a cork tree forest in the heart of the Natural Park of Grazalema. The hotel is well-located 20 kilometres from Ronda and only 5 kilometres away from the beautiful village of Grazalema. The city is an ideal place for nature lovers and for all those who enjoy trekking as well as mountain biking together with bird watching and plant lovers. All the 77 guestrooms have striking views over the valley of the Guadalete River and are furnished with latest facilities as well as services. The restaurant at the hotelís serves its guests with specialised local cuisines.
Hotel Villa de Grazalema
Hotel Villa de Grazalema is located 10 minutesí walk from the centre of Grazalema town, in the Sierra de Grazalema Natural Park. Surrounded by the Sierra del Endrinal Mountains, if features an outdoor pool. Accommodation is in air-conditioned rooms or apartments, all with a balcony or terrace offering mountain views. All have a TV and private bathroom with free toiletries. Apartments also have a living room and kitchen or kitchenette. Two-Bedroom Apartments have a fireplace. Traditional regional cuisine is offered in the restaurant. There is also a café-bar with a terrace offering views over the town. You can do hiking, canoeing and other outdoor activities in the surrounding area. Marbella and Seville are around a 90-minute drive away.
Continue browsing accommodation in Grazalema
| | |
| --- | --- |
| - JEREZ DE LA FRONTERA FEATURED HOTELS, CADIZ PROVINCE, ANDALUCIA, SPAIN | |
Search for hotels in Jerez de la Frontera
H2 Jerez, Jerez de la Frontera
This beautiful 4 star hotel is located near the "Chapín" football stadium in front of the Conference Centre and very close to the centre of the city, and the City Fair. You will be surprised by the lightness of its rooms, halls and common areas. It is a unique hotel. Modern and avant-garde, the Hotel H2 Jerez adapts its selection for every moment of the day. In the morning, it serves up a complete buffet breakfast of first-rate products. When you enter your room, you will feel like you have entered into a place deigned to help you rest, like the four pillows on your bed.
Barcelo Montecastillo Golf, Jerez de la Frontera
The Montecastillo Resort is comprised of a four-floor hotel with 20 adjacent villas set in castle grounds with an 18-hole golf course, and is located nine kilometres from Jerez. Guests can take a refreshing dip in one of two outdoor pools, open during July and August, or head for the spa where there is an indoor pool, dry and steam saunas, hot tub, solarium and massage and beauty treatment rooms. The castle adjacent to the hotel is home to the Golf Clubhouse as well as 14 conference rooms with capacity for up to 300 people. The 208 Andalusian-style guestrooms come equipped with air conditioning, satellite television, safes and minibars, while villa accommodation also has kitchenettes with small cookers.
Exe Guadalete Hotel, Jerez de la Frontera
The Hotel Guadalete is a modern three-floor hotel situated 36 kilometres northeast of Cadiz in the town of Jerez de la Frontera, which is renowned in Andalusia for its sherry, horse shows and flamenco. Guests can soak up the sun by the swimming pool or relax in the contemporary lounge and browse the daily newspapers. Later, guests can order cocktails from the bar and then enjoy the barbecues organised by the hotel. Alternatively, guests can sample regional Spanish dishes in the Restaurant la Cartuja or try the tapas dishes at the Bar del Guadalete. The 137 air-conditioned guestrooms have colourful contemporary decor with painted wood furniture.
Hotel Jerez and Spa, Jerez de la Frontera
The Hotel Jerez is a modern Andalusian hotel set in a quiet area, just 100 metres from the Congress Centre and two kilometres from the town centre. The hotel offers a number of dining options: El Cartujano serves a range of international and traditional Andalusian dishes in an elegant, modern setting with a poolside terrace; El Catavino offers Spanish tapas, salads and sandwiches in a traditional setting with a terrace area and live music, and the Patios de los Naranjos is an outdoor barbecue serving grilled meat and fish. Guests can work up a sweat on the tennis courts and in the fully equipped fitness room, go for a refreshing dip in the indoor and outdoor pools, and relax in the sauna, jetted tub and steam room.
Los Jandalos Jerez & Spa, Jerez de la Frontera
The Hotel los Jandalos Jerez, with its traditional Andalusian architecture, is set amid beautiful gardens with courtyards and fountains, located in the Jerez De La Frontera area of Cadiz. Guests can relax with a dip in the indoor pool. The meeting room can accommodate up to 70 people, and is available for business and party functions. Multilingual staff are available at the 24-hour front desk and the concierge can advise on local attractions. Guests can watch a Spanish bullfight, 500 meters away; visit the Statue, Renaissance Building and vaulted gallery of the Plaza de la Asunción 800 meters away; or take a trip to the Zoo and Botanical Gardens, three kilometers away or the Aquatic Park,12 kilometers away

Tierras de Jerez Centro, Jerez de la Frontera
The Hotel Tierras de Jerez is situated in the Plaza de las Angustias, an important area within the historic center of Jerez de la Frontera; it is surrounded by emblematic monuments namely the Alcázar (Castle) and the Cathedral. The hotel is situated in the most exclusive area of the city with its commerce and fine restaurants and near to tourist sights such as the museums and 'bodegas' (vine cellars). The Hotel has 50 rooms (1 double with extra room, 5 double rooms with master-bed, 32 double rooms with separated beds and 12 single rooms).
TRYP Jerez Hotel, Jerez de la Frontera
The TRYP Jerez Hotel is located in the centre of Jerez de la Frontera, Andalucia, Southern Spain, 300 metres from the mystery of Jerez Museum and 1 kilometre from the Archaeological Museum. Hotel Tryp Jerez offers wireless internet access in the air-conditioned public areas. Room service is available and there is a parking garage. The front desk is open 24 hours a day. The Cafeteria La Goyesca at Hotel Tryp Jerez offers snacks and drinks. refreshments are served in the lounge bar. All 98 guestrooms are air-conditioned and have satellite television, safes, minibars, and internet access. Bathrooms have hair dryers.
Continue browsing accommodation in Jerez de la Frontera
| | |
| --- | --- |
| LA LÍNEA DE LA CONCEPCIÓN - FEATURED HOTELS, CADIZ PROVINCE, ANDALUCIA, SPAIN | |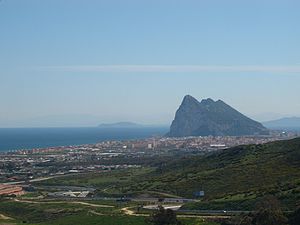 La Línea de la Concepción (more commonly referred to as La Línea) is a seaside town in the Cádiz province in Andalucia.

The town lies on the eastern isthmus of the Bay of Gibraltar, north of the Gibraltar-Spain border and the British overseas territory of Gibraltar with which it has close economic and social links. It is situated on the sandy isthmus which unites the Rock of Gibraltar with the coast in the eastern flank of the Bay of Gibraltar, between Sierra Carbonera and the Rock of Gibraltar. The perfect spot for a stopover and shopping spree in Gibraltar.
Search for hotels in La Linea de la Concepcion
AC Hotel La Linea, a Marriott Lifestyle Hotel, La Línea de la Concepción
Located on the beach promenade in Línea de la Concepción, opposite Gibraltar and only 15 minutes from Sotogrande. All 80 guestrooms at the hotel are well decorated and equipped with several modern amenities. Attentive room service is also available for your conveniences. Innovatively and elegantly designed, the restaurant serves delicious food and a fine selection of wines. The hotel's conference room is well equipped with latest technologies for you to conduct your meetings, seminars and other social events. The hotel's strategic location is ideal for those wanting to visit Cadiz, Malaga, Ceuta, Tangiers and other parts of Morocco or simply wish to play golf at any of the numerous courses in the region.
Ohtels Campo De Gibraltar, Línea de la Concepción
This property is 6 minutes walk from the beach. Just 500 m from the border with Gibraltar, Ohtels Campo De Gibraltar overlooks Algeciras Bay. An outdoor swimming pool and rooms with balconies are on offer in this 4-star hotel. Sea views feature in each of the Ohtels Campo De Gibraltarís air-conditioned rooms. All accommodation has simple, modern design and satellite TV. The hotel has a restaurant and a poolside snack bar, offering a choice of à la carte and buffet-style dishes. Guests can also request packed lunches. Set next to Reina Sofia Park, Ohtels Campo de Gibraltar is a 30-minute drive from Alcaidesa and Sotogrande Golf Clubs. The centre of La Línea de la Concepción is just 5 minutesí walk from the property. The hotel has a tour desk. Car hire is available and there is a currency exchange service.
Continue browsing accommodation in La Linea de la Concepcion
| | |
| --- | --- |
| HOTELS IN LOS BARRIOS, CADIZ PROVINCE, ANDALUCIA, SPAIN | |
Los Barrios is a small town and municipality in the south of Spain. It is part of the province of Cádiz and belongs to the Campo de Gibraltar comarca. The town's name means "the districts" in English.
Search for hotels in Los Barrios
Hotel Guadacorte Park, Los Barrios
Opened in October of 1999 and located in the heart of the Gibraltar peninsula, this charming hotel offers ideal facilities for a business visit or to enjoy an unforgettable vacation. Surrounded by 18,000 m2 of landscaped gardens, with elegant and warm decor complemented by the friendliness of our staff and a careful attention to details are the proof that this hotel has been created for the comfort and enjoyment of the most important person in our organization: Our valued guests. At the Hotel Guadacorte Park, our day begins with with a wonderful breakfast out on the terrace overlooking the carefully manicured grounds.
Continue browsing accommodation in Los Barrios
| | |
| --- | --- |
| PUERTO DE SANTA MARÍA (NEAR JEREZ) FEATURED HOTELS, CADIZ PROVINCE, ANDALUCIA, SPAIN | |
El Puerto de Santa María (The Port of Saint Mary, locally known as just El Puerto) is a municipality located on the banks of the Guadalete River in the province of Cádiz, Andalusia.

The town of El Puerto de Santa María is 10 kilometres (6 miles) north east of Cádiz across the bay of Cádiz and is best known for having been the port from which Columbus sailed on his second voyage to the Americas.
Search for hotels in Puerto de Santa Maria
Hotel Dunas Puerto, Puerto de Santa María
The Hotel Dunas Puerto is a villa-style hotel set amid pine trees in the town of El Puerto de Santa Maria on the Bay of Cadiz, close to the beaches at La Puntilla and Pinares de las Dunas De San Anton. The hotel's Restaurant Las Dunas serves regional and international dishes with special menus for children. In an adjoining section, the bar has sofas and a fireplace, and offers, drinks, snacks and light meals. Guests can relax in the large outdoor swimming pool surrounded by sunbeds and parasols, while kids have their own pool. Multilingual staff on the 24-hour front desk can assist with currency exchange, laundry, babysitting and storage of valuables in the safety deposit box. There is also a reception room for conferences or parties with audiovisual facilities also available. Parking is free in the hotel's car park.
Hotel Los Jandalos Vistahermosa, Puerto de Santa María
The Hotel Los Jandalos Vistahermosa is located in El Puerto de Santa Maria, Spain, within 1.5 kilometres of the nearest beach and golf course. It is eight kilometres from the centre of Cadiz, and the nearest train station is four kilometres away. Situated in a residential neighbourhood and surrounded by 2,500 square metres of gardens, the four-storey Hotel Los Jandalos combines traditional Andalusian design with contemporary furnishings and bold colours. Spa amenities include indoor and outdoor swimming pools, a Turkish bath, a plunge pool and massage services. The 63 air-conditioned guestrooms and apartments are decorated in warm colours with floral fabrics.
Hotel Los Jandalos Santa Maria, Puerto de Santa María
Hotel Santa Maria is situated in El Puerto de Santa Maria, a small harbour town and resort 15 kilometres north east of Cadiz, Spain. The building stands in a maze of old streets within the historic 'Wine-cellar' Quarter 800 metres from the beach and the Bay of Cadiz. The nearest railway station is 1.5 kilometres from the hotel. The Hotel Santa Maria Andalusian style. It has a light, airy lobby with leather seating, herringbone parquet flooring and dark timberwork. The hotel is fully air-conditioned and has a lift and private garage parking. The Santa Maria's main restaurant is the Bajamar, which overlooks the river. Besides the hotel's rooftop swimming pool and solarium with extensive town views, local leisure activities include tennis, horse-riding, bicycle hire and a variety of river- and beach-based water sports.
Continue browsing accommodation in Puerto de Santa Maria
| | |
| --- | --- |
| SAN FERNANDO FEATURED HOTELS, CADIZ PROVINCE, ANDALUCIA, SPAIN | |
Search for hotels in San Fernando
Hotel Salymar, San Fernando (Cadiz)
Chic, minimal design and modern art combine in the newly built Salymar hotel, centrally located opposite the Plaza de la Iglesia and 500 metres from the Parque Almte Laulhe. Guests can enjoy an array of amenities including 24-hour room service and front desk, fitness centre, coffee shop and restaurant. With its full-length glass ceiling, the restaurant offers local cuisine within a natural light environment. The stylish décor provides the swish setting for with an excellent selection of the best DO Spanish wines. The 55 contemporary guestrooms, with modern chrome fittings and wooden flooring, are all equipped with telephones, cable television and dial-up Internet access.
Continue browsing accommodation in San Fernando