Search for more hotels in Tenerife
| | |
| --- | --- |
| - LOS CRISTIANOS / ARONA FEATURED HOTELS, TENERIFE, CANARY ISLANDS, SPAIN | |
| | |
| --- | --- |
| Los Cristianos - situated 15 kms west of the southern airport (Reina Sofía), this is one of the most popular resorts on Tenerife. The town has a harbour with pleasure cruises and ferries to La Gomera, and lovely beaches. Originally a small fishing village, Los Cristianos has managed to maintain some of its original look and is more popular with the more mature tourist. | |
Hotel H10 Big Sur, Los Cristianos, Tenerife
Set in lush gardens, the Hotel H10 Big Sur is a family- friendly hotel located on the promenade overlooking Los Cristianos harbour, 300 metres from the beach and resort centre. Guests can spend sunny days lazing by the outdoor pool. More energetic guests can practise their serves on the tennis court or try their luck on the mini-golf course (surcharge). The hotel offers a range of daytime and evening entertainment, including sports such as aerobics and darts, and live music and professional shows at night. The hotel features 173 guestrooms spread over eight floors, all of which open onto furnished balconies and include cable television, safes, ceiling fans, and direct-dial phones.
Hotel Reveron Plaza, Los Cristianos, Tenerife
The Hotel Reveron Plaza is located in Arona, on the island of Tenerife, 500 metres from Playa de Las Vistas, and 30 kilometres from the Parque Nacional Del Teide volcano. There is a heated swimming pool with views out to Los Cristianos Bay, and guests have access to a spa tub, gym, and sauna. Wireless Internet access is available in public spaces, and multilingual staff can provide concierge services at the 24-hour front desk. Located on the fourth floor of the Hotel Reveron Plaza, Restaurante Mirador Plaza overlooks the beach, and has a wine list incorporating national and local wines. A complimentary buffet breakfast is provided each day. The hotel's 43 guestrooms are air-conditioned and feature modern furnishings in pastel tones.
Sol Princesa Dacil, Playa de los Cristianos, Arona, Tenerife
The Sol Princesa Dacil is a modern, 15-storey hotel overlooking the sea, 200 metres from the Playa de los Cristianos Beach. The hotel's main restaurant serves a buffet choice of international cuisine and themed events, while the Pool Bar offers a choice of alcoholic and non-alcoholic drinks, as well as light snacks and tapas dishes. There is also an English Pub offering a wide choice of alcoholic and non-alcoholic drinks. Guests can swim in the pool, order cocktails from the bar, and join in the organised activities including aerobics, water sports, tennis and golf. Children can join a supervised Mini Club, and there are shows, parties, discos and other entertainment programmes in the evenings.
Search for more hotels in Tenerife
| | |
| --- | --- |
| - PLAYA DE LAS AMERICAS FEATURED HOTELS & GOLF RESORTS, TENERIFE, CANARY ISLANDS, SPAIN | |
| | |
| --- | --- |
| Playa de las Americas - Resort built in 1960 and popular with younger tourists. Plenty of nightlife, clubbing, restaurants and bars. Also plenty of water sports, a water park with a Dolphin Aquarium and many shops. | |
Compostela Beach Golf Club, Campo de Golf las Americas, Playa de las Americas
Next to the Las Américas golf course and the beach, the low-rise Compostela Beach Club complex is well positioned for sun worshippers or golf lovers alike. The golf course is only 400 metres away and Las Vistas Beach is only 800 metres from the hotel. The hotel is well suited to families, with cribs available, a children's pool, play area and a full range of kids activities. Adults can also enjoy a range of activities, including fishing, horse riding, sailing and whale watching. The onsite restaurant offers a buffet-style range of regional and international food for breakfast and dinner. All apartments are fully equipped with kitchens, private bathrooms with bidets, cable TVs and balconies or terraces. Hairdryers, irons, ironing boards and in-room safes can be hired from reception.
Dream Hotel Noelia Sur, Playa de las Americas, Tenerife
The Noelia Sur is a modern hotel complex wrapped around a lagoon-like swimming pool; set in central Playa de las Americas, 500 metres from beaches and shops. Golf enthusiasts can play on the nearby course, two kilometres away, while beach lovers and water sports fanatics can enjoy the variety of sandy beaches in the area. On hot days guests can cool off in four swimming pools and sunbathe on the furnished sandy terrace with its beach atmosphere. Children can splash in their own pool and be entertained in the mini-club. Active guests can keep fit in the gym, and those in need of pampering can enjoy beauty treatments and massages. Guests can enjoy buffet breakfasts and dinners, as well as show cooking, in the main restaurant. Lunches are served in the poolside café. Dance until late in the disco.
H10 Conquistador, Playa de las Americas, Tenerife
The H10 Conquistador Hotel is a large, modern complex situated in the residential part of Playa de las Americas on the beachfront, 45 kilometres from Teide volcanic mountain. The hotel has a variety of dining venues and bars. The hotel also has two large lagoon-style swimming pools, one of which has a bar situated at its centre. There is also a Thalassotherapy centre where jetted tubs, Turkish baths and steam baths are available, as well as health and beauty massage treatments. Boutiques and souvenir shops are also located onsite. There is a pool that is just for the kids, and they have their own playground area and an activity club called Miniclub Daisy that will keep them entertained. The hotel's 485 air-conditioned guestrooms have light, contemporary decor with patterned fabrics and wood furnishings.
H10 Las Palmeras, Playa de las Americas, Tenerife
The H10 Las Palmeras Hotel is a ten-storey modern resort hotel, located 500 metres from Playa de las Americas beach and surrounded by generous subtropical gardens with direct access to the seaside promenade. The hotel's subtropical garden features two swimming pools, one of which is heated during the winter months, and a poolside bar serving drinks and snacks. Guests can enjoy a daytime and evening entertainment programme, or relax in the TV lounge or games room. H10 Las Palmeras has multiple dining venues and bars. The 519 guestrooms feature light decor with functional furnishings and glass doors leading to balconies.
Hotel Gala Tenerife, Playa de las Americas, Tenerife
The modern Hotel Gala Tenerife is flooded with natural light and has attractive interior gardens, located on the Playa de las Américas, 50 meters from the beach. Guests can unwind at the health and beauty center, with a sauna, massage or rejuvenating anti-cellulite treatments, lymphatic draining, peeling and ozone vapor. Families will appreciate the babysitting facilities, supervised childcare activities and children's pool. Sunbeds are plentiful on the terraces next to the swimming pool, where guests can relax with a cocktail. In the evenings, the piano bar has live music, orchestra dancing, local festivals and international guests. The main restaurant offers a full breakfast, lunch and dinner buffet, as well as show cooking once a week a theme nights. Seafood and meat is cooked on the barbecue for lunch and dinner.
Hotel La Siesta, Playa de las Americas, Tenerife
Hotel La Siesta, located in Tenerife, Spain, is an expansive hotel complex set in tropical-style gardens, surrounding a large pool just 300 meters from the beach in the lively resort of Playa de las Americas. Guests can take a dip in the outdoor swimming pool, spend the day relaxing under palms and parasols on the surrounding sun terrace and enjoy a cocktail from the poolside bar. Guests can also workout on fitness equipment and pamper themselves in the hotel's 500 square metre natural spa and wellness centre which includes hydromassage facilities, thermal baths, and relaxation treatments. Families with children can enjoy the separate children's pool and a unique kids club, Magic Park. The supervised Mini-club in Magic Park provides slides, ball pools, game consoles, and arts and crafts for children ages 4-10.
Royal Sunset Beach Club, Playa de las Americas, Costa Adeje
The Royal Sunset Beach Club is located in Playa de las Americas, Spain, 6.5 kilometres from the coastal town of Los Cristianos, and 11 kilometres from Arona. There is an outdoor swimming pool and a spa tub, and wireless Internet is provided in the air-conditioned public spaces (surcharge). Royal Sunset Beach Club's onsite restaurant serves international dishes, and light refreshments are available at the poolside bar. The hotel's 126 guestrooms have kitchens with microwaves and refrigerators, coffee and tea facilities, televisions, and complimentary toiletries.
Continue browsing Tenerife hotels
Search for more hotels in Tenerife
The 5 'Must Play' Golf Courses On Tenerife by Rodney Ritchie
top / Tenerife Hotels

Featured Golf Hotel: Compostela Beach Golf Club, Campo de Golf las Americas, Playa de las Americas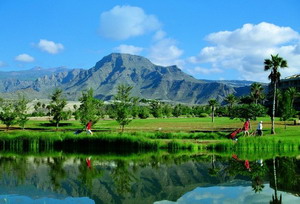 The Canary Island's top destination, Tenerife has almost year-round perfect weather for golf. There are nine courses on the island, each with its own challenges and varied topography, bearing the hallmarks of top designers such as Seve Ballesteros, Donald Steel, and Pepe Gancedo. Major PGA tournaments are held on Tenerife and first-class hotels offer excellent accommodation and fine dining to complement a high-quality golfing experience.
Abama
Set in the southwest of the island, this very new and challenging course, running to 6,232 metres, with Atlantic Ocean views, was designed by Dave Thomas. All levels of golfer will be satisfied with this Par 72 course, and wide tee areas allow plenty of room to hit off without feeling rushed. The course is 315 metres above sea level at its highest point, and includes 22 lakes, waterfalls, and white-sand bunkers.
There are hundreds of palms lining the greens and over 300 species of sub-tropical plants. The five-star Abama Gran Hotel, Golf Resort and Spa includes tennis courts, a pro shop and golf academy, a three-hole practice course, practice putting greens, and a driving range.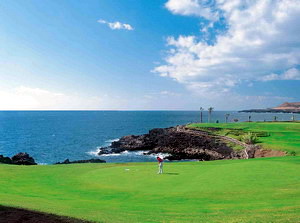 Amarilla
This Par 72, 6,648-metre course, attached to the Amarilla Golf and Country Club, is on the southern coast adjoining the sea, and has a spectacular mountainous backdrop. A floristic feature of the course is the profusion of barrancos, an endemic island plant. Thirteen of the holes follow the coast, and the signature 5th hole involves a chip over the incoming tide to reach the green.
A 9-hole pitch and putt area is good for practice, and there is also a putting green and driving range. The clubhouse, with its restaurant and bar, has a pool and tennis courts, plus an equestrian centre.
Costa Adeje
With fine views of the island of La Gomera, Costa Adeje is designed around the terraced fields of an old agricultural area and is surrounded by banana plantations. There are 27 holes to play, and the Par 72, 6,783-metre championship section features wide greens and hazards such as gorges and lakes. Host to the 2003 Spanish Open, Costa Adeje extends from the mountains down to the sea.
Its three-level, 15,000 metre-square driving range, with three starting levels, includes a buggy elevator. The large clubhouse has outdoor terraces, and is perfect for relaxing and dining after a game.
Isla Baja Buenavista
This Seve Ballesteros designed course, set in Tenerife's volcanic northwest Teno mountain range, is a Par 72, 6,150-metre challenge that tests even the low handicappers. Now ten years old, the course vegetation has matured and its scenic beauty, combined with holes that run adjacent to the Atlantic coastline, make this a favourite with those looking for a dramatic golfing location. Besides a golf school, there are two practice putting greens, and a chipping area. The clubhouse has a bar and restaurant.
Las Americas
In the south of Tenerife, between Playa de Las Americas and Los Cristianos, this 18-hole, Par 72 course overlooks the sea, and is close to popular beaches. Lakes and ravines are a course feature as well as obstacles, but the course is protected from the wind by a gently sloping amphitheatre. There is a golf school, driving range, practice putting green, and a pro shop. The clubhouse has a bar/cafeteria.
Playing golf on Tenerife is a pleasure whichever course you decide to play and whatever time of year you decide to play, but a visit to one of our top 5 courses above will ensure a golfing experience of the highest order.
Featured Golf Hotel: Compostela Beach Golf Club, Campo de Golf las Americas, Playa de las Americas