Return to Travel Articles
Gran Hotel Guadalpin Banus
A touch of elegance, living the luxurious life and glamour around every corner are just a few words that can describe the Gran Hotel Guadalpin Banus, which sits in the beautiful surroundings of Costa del Sol. A mere 15 minute walk brings guests to the stunning Puerto Banus center. There could not be a better location for a luxury hotel to reside.
Not to be overshadowed is the top notch, white glove service provided by the exceptional hotel staff. The main philosophy is to make each and every guest feel like a member of the family as opposed to a business client.
The Gran Hotel Guadalpin Banus, certainly does not disappoint. One step inside any one of the 181 guest rooms make this evidently clear. Each room is decorated with the finest materials available. Every turn reveals a luxurious touch to the room, whether itís a stunning painting on the wall or a tiny throw pillow on a couch.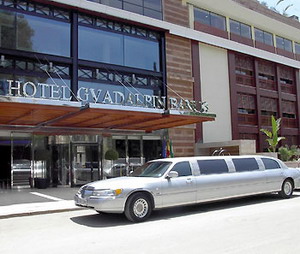 Nothing is overlooked in any room. Each guest room offers picturesque views of the Mediterranean Sea. This setting adds to the peaceful, serene feel of the entire hotel. Guests feel as if there is no better place on earth to get a good nightís sleep.
In addition to the lavish décor, each room is equipped with a plasma television, hi-fi sound systems, individual temperature controls and stocked mini bars to name a few. Smaller rooms are adjacent to each larger room making the perfect space for a private suite or business office during a guest stay. If a guest desires, the outside terrace may also connect to both rooms as well. Guest rooms are available in the form of a standard double room or a junior suite.
The crème-de-la-crème room can be found in the penthouse suites. Here guests are treated to every luxury imaginable starting with the breathtaking view of the Mediterranean from a private Jacuzzi hot tub.
When the need for a culinary delight arises, Gran Hotel Guadalpin Banus does not disappoint. Every cuisine imaginable is available, often at any time day or night. There is the delightful Italian restaurant of Ristorante LíAmbasciata or the rice bar Abanda. Seafood lovers will enjoy dining at La Proa. Basque inspired culinary dishes can be found at Lorea. End the night with a delicious cocktail creation from Sofia Cocteles, a full service bar as equally elegant as its neighboring restaurants.
The luxuries do not stop here. Gran Hotel Guadalpin Banus offers three swimming pools. One is for the children, one contains a bar and the third is simply a place to relax and let the world pass by. Additional leisure activities unfold at the hotel sun deck, fitness center and outdoor solarium.
For those here on business, there are three conference rooms available for varying corporate needs. These are ideal locations for banquets, seminars or training programs. Each room features state-of-the-art technology in light, sound and computerized equipment.
Once inside the doors of the Gran Hotel Guadalpin Banus, a life of luxury awaits all who enter!