So much fun in the sun on the Costa del Sol in Spain
Mijas Featured Hotels
Traveling down the Costa del Sol in southern Spain has never been more fun and exciting. New attractions are popping up everywhere it seems, with something for everyone (to use the ancient cliché). Of course the existing attractions are great too. The following is a brief introduction into what is on offer, but bear in mind there is so much more just waiting for you.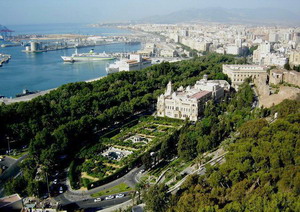 Having set yourself up comfortably with a Costa del Sol holiday villa or apartment somewhere along this sunny coast, you are feeling independent and at home with your surroundings. Now it's time to set out to explore the coastal highway and all the interesting options available to you along the way.
Let's start with Málaga and while the city has endless attractions, probably the most interesting includes Museo Picasso Málaga, or Picasso Museum, where you can browse some of the iconic artist's work, along with paintings by other famous artists. While thinking Pablo Picasso, you can even visit the house where he was born, right in the heart of the city.
For those with a penchant for really great automobiles, Málaga boasts the amazing Museo Automovilístico de Málaga (automobile museum) which is the stunning private collection of one Joao Magalhaes, a Portuguese car fanatic. The collection is reportedly worth around 25 million euros and includes vehicles from the 20s, 30s,40s and 50s. Among these vehicles are such famous names as Hispano Suiza, Bugatti, Delage, Packard, Auburn, Rolls Royce, Bentley, Jaguar, Mercedes and Ferrari, among others. You can read more and see a video presentation here.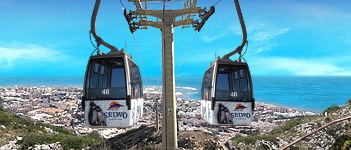 Heading further along the coast, make sure you take a cable car up to the eagle sanctuary on Calamorro Mountain, just above Benalmádena Costa. Here you can enjoy not only stunning views across the coastline and out to sea, but also exhibitions of predatory birds, including hawks, eagles, owls and vultures and can participate in mountain climbing and walks with footpaths leading to different viewpoints.
Again Benalmádena Costa has more options than are mentioned here, but let's carry on further down the coast to Fuengirola, a popular seaside resort frequented by locals as well as British, German and Scandinavian visitors.
One of the town's best attractions is a lush, green and leafy oasis, right in the middle of town. Originally called Fuengirola Zoo, this attraction went through a massive upgrade some years ago and is now known as Bioparc Fuengirola. Here we can visit some of the most iconic creatures from Asia and Africa, all living in realistic and spacious enclosures and many are actively breeding there. Bioparc Fuengirola is also active in various projects to save endangered species worldwide.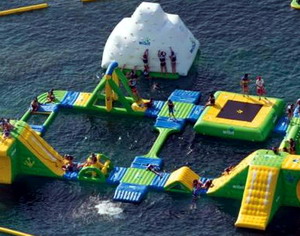 Carrying on down the coast, all the way to Estepona, we find another animal paradise, Selwo Aventura Estepona, where you can experience a safari adventure and learn more about conservation of wildlife in Africa. The park is also a photographer's dream as you can capture images of rhinos, zebras, giraffe, lions and hippos, all running loose in the beautiful Spanish countryside.
The newest additions to the fun in the sun have recently popped up in Marbella, Puerto Banus and Fuengirola and they are known as "CostaWaterPark. " To quote their website, this exciting new option includes a variety of "water slides, trampolines, jumping cushions, climbing walls and many other challenging attritions, in all shapes and sizes," all grouped together just off the beach for your summer fun.
So come and join the fun on the Costa del Sol this summer, or any time of year for that matter, and have a great time.
| | |
| --- | --- |
| - MIJAS AND MIJAS COSTA FEATURED HOTELS, COSTA DEL SOL, ANDALUCIA, SPAIN | |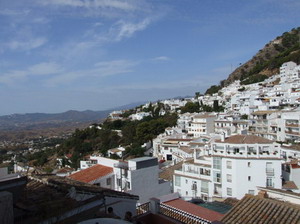 Mijas is located in the Spanish province of Malaga on the Costa del Sol in Andalucia. The town consists of two separate areas - Mijas Pueblo - a traditional Spanish white village - and Mijas Costa - a modern coastal beach resort. Mijas Costa is typical of all the Costa del Sol beach resorts with restaurants and bars near the beach. Mijas Pueblo is a typical Andaluz village of whitewashed buildings, with winding narrow streets, and the proverbial geranium strewn balconies, perched high on the mountainside with spectacular views to the Mediterranean below and a scenic backdrop of mountains and endless pine forests. On entering the village, it is possible to see the ancient spring, which provides natural mineral water. Stroll the narrow, cobbled streets and breathe in the atmosphere - stop for a coffee or a glass of wine along the way and sit and watch the world go by.. then take a trip around the village in the famous donkey-drawn taxis of Mijas. The village is a fascinating place to visit. Many bars and restaurants, attractive shops, and astounding views all around... read more
Crown Resorts Club Marbella, Calahonda, Mijas
Crown Resorts is a collection of apartment complexes consisting of white, low-rise buildings set in gardens with swimming pools and sports facilities, two kilometers from the beaches of the Costa del Sol. Guests can take advantage of the resort's full service heath spa, which features a heated indoor swimming pool, a jetted tub, sauna and a fully equipped gym, or enjoy a game of tennis or squash. Sun seekers can relax on the terraces around the large outdoor pool with a cool drink from the poolside bar and children are well catered for with their own pool, play area, video games room and mini club offering a full program of activities.
El Porton, Sitio de Calahonda, Mijas
El Porton is a Mediterranean-style hilltop apartment complex situated among the heights of Sitio de Calahonda in Mijas Costa, 15 kilometres from Fuengirola. Guests can soak up the sun in the garden, and enjoy a refreshing dip in the outdoor swimming pool. There is also complimentary use of all facilities at Club Marbella/Crown Resorts where guests check-in, two kilometres from the apartments, which include a fitness centre, squash court, indoor and outdoor swimming pools, bowls, miniclub, crèche, playground, games room and a bar with regular live entertainment. This three-floor complex features 38 apartments with simple, light decor and provincial pine furnishings.
HIGHLY RECOMMENDED BY OUR TRAVEL PARTNER
Hotel Carmen, La Cala de Mijas
This property is 2 minutes walk from the beach. Set in the heart of the Costa del Sol in La Cala de Mijas and only 100 m from the beach, Hotel Carmen features air-conditioned rooms, free Wi-Fi and a café bar. Rooms feature modern décor and offer plenty of natural light. Some of them have a private terrace overlooking the sea. Each room includes a flat-screen TV and a private bathroom. A continental breakfast is served in the property's café bar. Numerous bars and restaurants can be found nearby. There are also several Golf Courses less than 10 minutes' drive of the hotel. Fuengirola is 10 km away and Málaga Airport is 30 minutes' drive from Hotel Carmen.
Hotel Hacienda Puerta del Sol, Mijas
The Hacienda Puerta del Sol is a modern hotel built in a typically Andalusian style, with archways and whitewashed walls, and is located on a hill overlooking the sea, four kilometres from the beach and the centre of Mijas Pueblo (village). Guests can enjoy a few sets on the two tennis courts, relax with a sauna and swim or tone up with a workout at the gym. A separate splash pool is provided for children. In the evenings, guests can unwind over drinks in the bar, and the restaurant offers a buffet of traditional Spanish and international dishes in an informal setting. Those wishing to check their e-mail can do so via complimentary internet access, and newspapers are provided free of charge in the lobby.
La Cala Resort, la Cala de Mijas
With a five star rating, Hotel La Cala is one of the top hotels in Spain. It commands a central position between the golf courses. Built in a traditional Andalusian style, it offers exquisite dining and entertainment to the discerning visitor. For just a quiet drink or nightcap you can relax in the Lobby Bar or if you wish to use the internet, look at satellite TV or play interactive games you can choose Bar Califa on the ground floor. The resort is the ideal base for enjoying your holiday. Just minutes from the coast and the towns of Mijas Costa, Marbella and Fuengirola, the estate is however totally removed from the bustle and hustle associated with the attractions of the coast. It is totally private allowing you to relax in one of our luxurious refurbished hotel rooms.
VIK Gran Hotel Costa del Sol, La Cala de Mijas, Mijas Costa
The hotel is situated 30km from Malaga airport in the heart of the Costa Del Sol, in Playa la Butibamba, Mijas Costa. Here there is something for everyone to do. Plenty of beautiful sandy beaches for the sun worshipers and plenty of watersports and activities for the more active. Bars and restaurants are plentiful. Situated on the beach, between Fuengirola and Marbella, approx 10kms from each. The hotel has a main swimming pool, gardens and a big terrace with bar Chiringuito with sunbeds and umbrellas. All-inclusive amenities and resort fees are determined by the property and are subject to change.
Browse more accommodation in Mijas - Mijas Costa
Return to Andalucía Hotels
Continue browsing hotels on the Costa del Sol