Hotels in Nerja - Apartments in Nerja - Villas in Nerja - Return to Travel Articles
Nerja Holiday Destination on the Costa del Sol by Alan Congreave
Nerja is the most eastern town on the Costa del Sol and is 55 km (about 35 miles) from Malaga. It is only 50 minutes drive from Malaga's International Airport and an hour and a half from Granada and the Sierra Nevada ski resort. Part of its beauty comes from its magnificent geographical location. Within an area of 84 square kilometres and a population of approximately 17,000, it is one of the two municipalities in the whole province of Malaga with the most protected nature parks ('Sierra Tejeda-Almijara' and the 'Maro-Cerro Gordo').

Protected by the 'Sierra' mountains from the winds of the north and bordered by the Mediterranean Sea, Nerja enjoys an exceptional subtropical all year round climate.

From a tradition of fishing and agriculture, the primary economic activity of today is tourism. Because Nerja still conserves its culture, and together with its beaches, cliffs and mountains, it is one of the more popular destinations for many people looking to have a closer contact with nature; not forgetting, of course, the fairs, traditional festivities and nightlife that the town has to offer.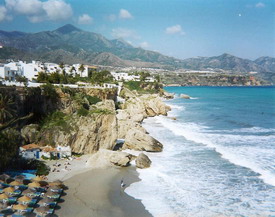 Nerja boasts 16 kilometres of beaches with powdery sand and sparkling clear water. All major water sports are available here, including water skiing, scuba diving and sailing. There are plenty of restaurants and cafes here to choose from, and the visitor can hire a horse-drawn carriage to explore the most romantic corner of the town. It is said that Nerja has about 600 tapas bars, cafes and restaurants and as such will suit all tastes and pockets.
Flanked by a dramatic Sierra Almijara mountain range to the east, the town has fortunately managed to avoid being blighted by the concrete high-rise scenario, which has been the inevitable result of the tourist boom in some of the coastal resorts. The old quarter of the town is still virtually unchanged with narrow, winding streets, whitewashed houses with wrought iron terraces overflowing with geraniums and borganvillea.
The heart of Nerja is its spectacular Balcon de Europa, the "Balcony of Europe". It is a magnificent promenade along the edge of a towering cliff, which once the site of the great Moorish castle. There are sweeping panoramic views of the Mediterranean and of the small coves and beaches below, against an awesome backdrop of hazy mountain scenery.
The town's monuments include the 17th century Church of El Salvador, in a style, which is a charming mixture of baroque and Moorish, or Mudejar, and the beautiful Gardens of Capistrano Playa, which descend to Burriana Beach.
Nerja's most spectacular attraction is undoubtedly its fascinating caves, located just three kilometres from the centre of town. They include archaeological treasures such as paintings over 20,000 years old and other pre-historic remains. One of the enormous natural caverns has been transformed into a concert hall, where many performances are staged during the summer.
Hotels in Nerja - Apartments in Nerja - Villas in Nerja - Return to Travel Articles