| | |
| --- | --- |
| VITORIA FEATURED HOTELS, PAIS VASCO, SPAIN | |
Search for more Vitoria hotels
AC General Alava Hotel, Vitoria
AC General Alava is located in the town of Vitoria, Spain, 800 metres from the historic old town and the Cathedral of Santa Maria. Bilbao is 50 kilometres away. AC General Alava is a 10-storey high-rise hotel featuring contemporary architecture. Multilingual staff at the 24-hour front desk can offer currency exchange, tour assistance, and the use of a safe-deposit box. The public areas have wireless Internet access, and there is limited-hours room service. Restaurant El Figon serves regional specialities and Spanish dishes in a contemporary setting, and features show cooking. The old town of Vitoria-Gasteiz, 800 metres from the hotel, centres on the Cathedral of Santa Maria. The winding streets offer an authentic taste of old Spain.
Barceló Hotel Gasteiz, Vitoria
Explore the city's 400 historic buildings including the Santa Maria Cathedral, the Casa del Cordón, and the Playing Card Museum in an old Basque home. In Vitoria-Gasteiz, the sounds of jazz wrap themselves around medieval architecture and echo through the old quarter during the week long international jazz festival in July. End your day with a beautiful meal in the hotel restaurant where the chefs pride themselves in their traditional, dishes made with only fresh, local seasonal ingredients. The Barcelo Hotel Gasteiz features a restaurant, piano bar, and disco. Artagan - Savor Basque and international specialties in the hotel's restaurant. The Barcelo Hotel Gasteiz features 150 guestrooms; rooms can accommodate a maximum of three people.

Hotel Dato, Vitoria
Hotel Dato is a symbol in the city of Vitoria. Its wonderful decoration is recognized all over the world. The Hotel is as a little museum where the art and the comfort of the rooms are together. Each place is a discovery of colours and shapes. Special service for clients and enterprises. In the financial and cultural center of the capital . In the commercial area, the most elegant stores, cinemas and theatres around. A privileged place in downtown Vitoria.
Hotel Silken Ciudad de Vitoria
Located in the center of historic Vitoria, the Hotel Silken is housed in a striking neo-classical style building situated 500 meters from the cathedral and Artium Museum. From the hotel's central location, visitors have easy access to Bilbao, San Sebastian and the Rioja wine district. The hotel's onsite restaurant, Ciudad de Vitoria, offers an a la carte menu with regional specialties and international dishes, served in a relaxed setting with contemporary furnishings. Alternatively, guests can order room service and rent a film from the onsite video library, or enjoy a drink in the Piano Bar Wellington, which offers live piano music and a variety of cocktails. Guests can make use of the business center with meeting rooms, work out in the fitness center after a day of meetings, or pamper themselves in the massage-treatment rooms, jetted tub and sauna.

Search for more hotels in Vitoria and surrounding areas
Best Places to Visit in Vitoria Spain by Michael Lee
Vitoria Featured Hotels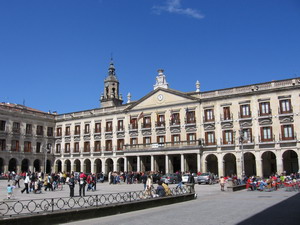 Vitoria in northern Spain is less visited by British travellers than some of the Southern cities. It's true the weather here is not as good as the South but with average temperatures in the mid twenties during summer it is still a fantastic place to consider visiting whilst you are in Spain. So if the sun doesn't shine every day I would suggest hiring a car and seeing some of the fabulous historic centers which make the Alava region so special.
Vitoria is the capital of the Alava province and of the autonomous region of the Basque Country. In fact Vitoria has two names it is officially Vitoria-Gasteiz. The Name Nuevo Victoria was given to the city by King Sancho VI of Navarre, who founded the modern city of Vitoria in 1181. Before this Vitoria as it stands today didn't really exist, the closest inhabited area was the hamlet of Gasteiz which stood on the hill around which Vitoria grew. Vitoria was little more than a walled defensive outpost which belonged to the kingdom of Navarre.
Vitoria grew to the city we know today mainly because of its strategic position between the table lands of Castile and Northern Europe. The huge number of passing travellers meant it became an important trade center. In the 13th century three weekly markets took place and two very important annual fairs were held.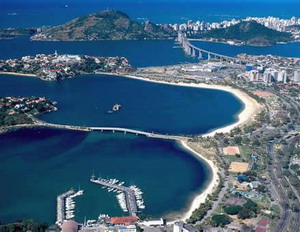 One of Vitoria's most interesting historical elements was that the city held its own individual principals that became laws. All inhabitants of Vitoria were declared equal, there was no distinction between nobility and the general public.
Vitoria has a small airport but you will find it difficult to get cheap flights into the city. Most travellers fly to Bilbao airport. Bilbao is only 66 kilometres away from Vitoria and is a relatively easy drive on good roads. If you arrive at Bilbao airport I would definitely suggest hiring a car. This kind of service is a lot cheaper than in the UK. In fact you can often save money during your stay by hiring a car because you will avoid transfer costs and transport costs during your stay.
A short distance away is the town of Mendoza where you can visit the medieval tower and the dungeons below. The medieval tower discovered in Donana is now known to have been a dungeon used for prisoners and perhaps lovers in the Palace. The latter possibility has been strengthened with the discovery of two bodies. A legend says that courtesans kept their lovers there until death.
If you have had enough of narrow cobbled winding streets and this city steeped in history an escape to Garaio will come as a welcome escape. Your hire car will be perfect for a day trip Garaio it is only 15 kilometres away, here you'll find all of the activities which you can't enjoy in the city. Cycling, mountain biking, hill walking, sailing and canoeing are all possible in the park. For any serious twitchers out there make sure you visit the Mendixur Bird Observatory.
These outdoor parks have facilities for swimming, out door bars, picnics and space to enjoy the beautiful countryside in this area of Spain.
Ensure you pre book your hire car as far in advance as possible before your trip. Remember to take into account the luggage you will be taking with you when you book the car. If you're taking sports equipment make sure it will fit in with your luggage. A smaller car will undoubtedly be cheaper if you are not planning to use you car very much this will be best; but there's nothing quite like travelling around Spain in the luxury of a convertible hire car.