Valencia Holidays - Alicante, Benidorm & Valencia Holiday Attractions by Steve Greenwood
Valencia can be found on the eastern coast of Spain and is bordered by the regions of Catalonia, Aragon, Castilla la Mancha and Murcia. The official languages of the region are Castilian Spanish, which everyone is required to know by law throughout Spain under the Spanish Constitution of 1978, and also Valencia, which is similar to Catalan but under a different name.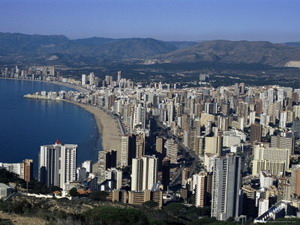 Costa Blanca
Costa Blanca is known as the 'White Coast' as it offers miles of fine sandy beaches and a brilliant light, dry, hot climate. The main tourist resorts here are Benidorm and Alicante, although other popular holiday destinations include Gandia with a wonderful 14th century palace, and Altea offering traditional Spanish houses and a thriving artistic community.
Costa del Azahar
Costa del Azahar begins at the Tarragona provincial border and travels south for 112km covering some beautiful beaches overlooked by orchards of olives and oranges. For this reason, it is also known as the Orange Blossom Coast. Popular coastal resorts include Peñíscola with its medieval castle that was featured in the film 'El Cid', and Sagunto offering many Roman artefacts and sites including a 2nd century Roman Amphitheatre.

Alicante Holiday Attractions
Alicante is well known on the tourism trail and a great destination for those wanting a traditional beach holiday. The weather is fantastic with hot summers and mild winters and the city offers an abundance of gardens, parks and squares from which to enjoy the relaxed atmosphere. There are many wide palm-lined avenues providing an unlimited shopping experience from the large department stores like Corte Inglés, to fashionable boutiques and souvenir shops. Every street corner in Alicante bustles with holiday activity with holidaymakers perusing the many shops selling local ceramic, marble, leather and wooden produce.

Benidorm Holiday Attractions

Despite the worst excesses brought upon the city by package tourism, Benidorm delivers very well for the package holidaymaker. The two main beaches Playa de Poniente and the Playa de Levante are over 5km long in total and offer enough space for everyone. The bars and restaurants are in sufficient supply and with over 30 discos on offer; nightlife in Benidorm is lively to suit all tastes. The attractive Balcon del Mediterranean set in the middle of the two beaches, has spectacular views of both beaches and also its island lying just offshore.

Benidorm is surrounded by mountains as high as over 1,500 metres and these keep the cooler north winds at bay to give the city warm temperatures even during the Winter months when temperatures stay mild. Just 7 kilometres down the coast lies the small town of Altea. A change from bustling Benidorm, Altea offers a traditional community with a preserved old quarter that attracts many artists because of its wonderful light.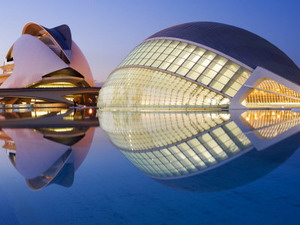 Valencia Holiday Attractions
Valencia lies on the Costa del Azahar and is the third largest city in Spain. It is an industrial city with a medium-sized port, but the local government is working hard to improve the city's image to tourism. One example of this is the recent completion of the new City of Arts and Sciences Complex.
Surrounding the city is the fertile plain called the Huerta where orange trees grow in abundance as does rice, which is, used for Valencia's legendary dish the paella. Most of the produce of the Huerta comes to the 1,000 colourful stalls of the modernist Mercado Central. Built in the early 20th century, it is an eight-sided iron girder and glass building which contains one of the largest markets in Europe. Well worth a visit even if you're not planning on buying anything.